Office Picnic Challange – because I love coming home to an "oh by the way"
Picnic panic defense! With us, both being on vacation for two weeks and then Paul had to work in Baltimore right after it's been a busy catch up with on my end. Paul then reminded me that it as his annual office picnic on Saturday too. So I managed to get into the kitchen and make some of my favorites to being with.  Of course, Dino was hoping I would spend more time with him after his two weeks at Hightail Hotel, than my being in the kitchen while Paul was away – but he got plenty of snuggle time later.
First – the cookie!
Perfect for a picnic as it is for dinner is one of the favorites of his office is the variation to the Black Pepper Biscotti Ifrom Valerie Bertinelli. I have made this a bunch of times and its become a perfect goto not to mention is a great based to change it up from. In today's version, I made one with chopped walnuts and almonds (because that's what I have handy). I also used a bit of lemon extract in place of the peel that is mentioned in the previous post since I didn't have any handy. But go easy on lemon extract, a little goes a long way. The second version is essentially the same but without nuts or almond extract. For this one, I amped up the vanilla, added some powdered ginger and a bit of homemade ginger syrup (see the recipe below). The third version was a Spicey Chocolate Biscotti with dried cherries. This was a made up recipe, so is in draft form but I liked the version enough to bring. I think next time it needs more cayenne (most likely 3/4 tablespoon in total).  Once it gets done I will repost the final version recipe.
Second – the fruit salad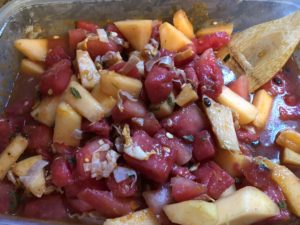 This was an easy one Summer + Picnic+ Fruit Salad. I have been making this cool watermelon chili, but on a recent episode of Sara Moulton I saw this new version that uses Watermelon, Cantaloupe, Feta Cheese, and Procuitto. I have made it now for several potlucks and news this one would be perfect. She adds paprika which gives it this sweet smokey flavor for a different twist. Sara's version of Two-Melon, Proscuitto and Feta Salad is really good as is. Try it first then change it up for your needs. At times I have swapped in smoked ham slices and or pepperoni in place of the prosciutto. I change up the nuts from time to time.
For this weekend version, I kept it pretty much the same but swapped out 2 tablespoons of olive oil with 2 tablespoons of a local Habanero infused olive oil. You will notice that this shot has a lot of extra marinades. That is on purpose. I like to much that I save it and use it as a salad dressing base or as we did on vacation when I made it. Just add more melons.
As an extra – cold marinated cucumbers and carrots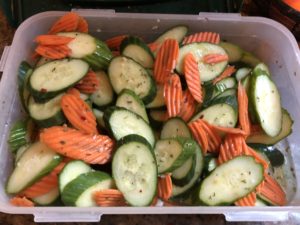 This is one from my childhood I revamped. its quick and easy to make – tastes better the longer you let it chill. But equally as good with a 30-minute marinade. Unlike the Pickled Carrots and Jalapeños I did before, these require no heating. Just chop, pour, season and chill. This one I eyeball for measurements – eventually, I will try to measure it out. Slice up some 2-3 English cucumbers on an angle, toss in come carrot slices (or buy them already fancy sliced), add 1/2 cup of white vinegar, juice of 1/2 lemon, salt, pepper, red pepper flakes, add chopped parsley or cilantro, 1/2 cup of sugar and 7 or 8 ice cubes (1/2 of chilled iced water works too if you are short on time). Mix well and leave in the refrigerator 30 min to overnight. Taste to flavors. You want a tart, sweet, herbed crunch. Most fresh herbs work. As does add sliced raw peppers (hot or sweet), radishes, even celery.
---
Ginger Syrup 
Ingredients
Several large pieces of ginger, peeled and rinsed and sliced, approximately 4-6 inched or about a cup sliced.
2/3 cup water
1/3 cup granulated sugar
Directions
In a saucepan – cook the ginger, water, and sugar first to a boil then reduce heat and simmer for 10-12 minutes. Remove from the heat to cool 5-10 min. Once cool, strain out the cooked ginger into a clear glass jar. add a few uncooked peeled pieces of ginger and refrigerate.
Note: If you want some extra zing, add cinnamon sticks or rosemary to the simmer and strain out.