Pear Cornmeal Cake w  Rosemary Syrup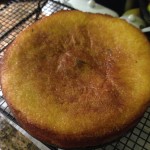 This is a great recipe to fiddle with. Try adding more pears or other succulent fruits. The sweetness is adjustable some may find that an extra ¼ in the batter works well. A light difference in texture will result with the use of xl eggs in place of large egg but no taste difference. Note: If you do not have the Buttermilk on hand, use whole milk with a tablespoon of white vinegar. At the end of the this post is the link to the original as well.
8 tablespoons (1 stick) unsalted butter (melted, plus more for the pan)
1 1/4 cups all-purpose flour (spooned and leveled)
1/2 cup yellow cornmeal
2 teaspoons baking powder
1/4 teaspoons baking soda
1/2 teaspoon fine salt
1 1/4 cups sugar
1/2 cup buttermilk
2 large eggs (I actually used 2 xl eggs and think I liked the texture better – but either seem to work, whisked)
2 in ripe pears (I tend to use 3 pears, that I also lightly coat a bit of gf cake flour first before folding in, cut into 8 wedges each)
6 large sprigs rosemary
freshly whipped cream (optional, for serving)
Heat oven to 350° Butter a 9-inch springform pan.
Whisk together the flour, cornmeal, baking powder, baking soda, salt, and 1 cup of the sugar in a large bowl. Whisk together the buttermilk, eggs, and melted butter in a medium bowl. Add the wet ingredients to the dry ingredients and whisk to combine. Fold in the pears.
Transfer the batter to the prepared pan. Bake until a toothpick inserted in the center comes out clean, 45 to 55 minutes. Cool in the pan for 15 minutes; transfer to a wire rack.
Meanwhile, heat the rosemary, the remaining ¼ cup of sugar, and ¼ cup water in a small pot over medium heat. Cook, stirring, until the sugar is melted. Remove from heat, cover, and let sit, stirring occasionally, for 30 minutes and up to 4 hours. Discard the rosemary sprigs.
While the cake is still warm, brush the top and side with the rosemary syrup.
Serve warm or at room temperature with whipped cream, if desired.