Harvest Squash Salad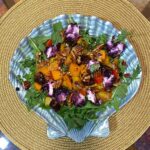 This delicious fall and winter squash salad takes two of my favorites; butternut and acorn, and pairs them with bacon, pomegranates, cranberry goat cheese, dates, pecans, arugula greens, basil and a spiced cumin-date dressing. Back in my days on the old format of Foodtoktv I went live to shared and older version.  Since then, I have made a few revisions to amp it up further.
It's hearty enough to be a meal on its own over arugula but it's also  a wonderful harvest side dish. You can easily adapt this and use your favorite squash, take it vegan or meat free as you prefer.
Ingredients
1 small butternut squash, peeled, seeded, and cubed

1 small butternut acorn, peeled, seeded, and cubed

½ to 1 teaspoon extra-virgin olive oil

¼ teaspoon freeze dried or fresh herbs

4 slices of pre-cooked bacon (optional)

¼ teaspoon ground cumin

¼ teaspoon ground coriander

¼ teaspoon cinnamon

¼ teaspoon cayenne, less if sensitive to spice

6 cups loose-packed spring mix greens (optional)

1 diced sweet red or green pepper

1/2 cup diced onion

2 ounces goat cheese, torn into smaller pieces

6 Medjool dates, pitted and diced (2 for the dressing and 4 to top the salad)

¼ cup pomegranate seeds

¼ cup pistachios or pecans, crushed and toasted

sea salt and freshly ground black pepper

Red pepper flakes

Fresh Basil
Cider Date Dressing (makes extra)
5 tablespoons extra-virgin olive oil

2 tablespoons apple cider vinegar

1 tablespoon fresh lemon juice

2 of the 6 Medjool dates, pitted

½ garlic clove (optional-dried is fine)

⅛ teaspoon ground cumin

sea salt

black pepper, to taste

3 to 5 tablespoons water, as needed to blend

Instructions
Preheat the oven to 425°F and line a large baking sheet with parchment paper.

Place the squash cubes, chopped bacon, diced pepper and onions on the sheet and drizzle with olive oil and pinches of sea salt and pepper and red pepper flakes to taste.

Toss to coat and spread evenly on the baking sheet.

Roast for 30 to 35 minutes, or until tender and browned around the edges.

In a small bowl, stir together the cumin, coriander, cinnamon, herbs and cayenne. Set aside.
Make the Cider Date Dressing:
In a blender, combine olive oil, vinegar, lemon juice, 2 dates, garlic (optional- powder is fine), cumin, salt, pepper, and 3 tablespoons of water.

Add 1 to 2 more tablespoons of water as needed to blend.

Add more vinegar or lemon to taste

You want this to be just thick enough to coat the warm veg.

Remove the butternut squash from the oven, scrap and add to a bowl

Add the remaining 4 chopped dates

While warm, toss with the spice mixture.
Serving as a side dish:
Drizzle 1/3-1/4 of the dressing and gently toss

Top with pomegranates, fresh basil, goat cheese and nuts. (Check out my gluten free and carb friendly recipe for homemade granola and use that as a crunchy spiced garnish)

Add another drizzle of the dressing

Serve warm to room temp.

Serving as a salad
Layer the arugula on a platter or plate and top with some of the roasted squash.

Drizzle with ⅓ of the dressing,

add the goat cheese, dates, basil, pomegranates, and nuts.

Drizzle with more dressing as desired and serve on the side.

 

Add a spritz of lemon

Hint: warm the dressing up a bit.
Serve immediately.