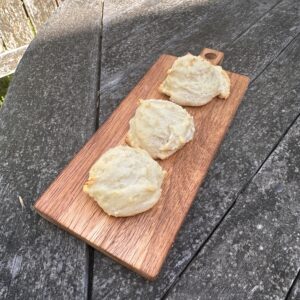 This cookie is very similar to one I loved growing up in an Italian -American household called Anginettes, but different. The base of this recipe for Ricotta Glazed Cookies is as the title implies, based on Ricotta Cheese. It fit perfect for this week's spring fresh live as it's easy to adjust the glaze colors for any time of year and is a quick bake time and pairs great with the Tomato, Bacon & Cheese Shortcake I made during an old TIKTOK live
Ricotta Glazed Cookies 
Ingredients:
Cookie batter
One cup of unsalted butter or margarine or 1/2 and 1/2)

2 cups of sugar

16 ounces of ricotta cheese

3 tsp of vanilla extract

1 teaspoon of lemon extract

1 teaspoon of salt

1 teaspoon of baking soda**

4 cups of flour

Zest of one lemon
For the glaze
Confectioners Sugar

Lemon juice or milk

almond extract

anise extract

A few drops of gel food coloring will bring these seasonal
Directions:
Using an electric mixer combine butter sugar and ricotta cheese

Combine lemon zest, extract and vanilla extract with the cheese mix

In a separate bowl combine baking powder flour and salt

Add flour to the cheese mixture, mix until just combined

It should be thick enough that you can make walnut size balls if it's too loose add some more flour

Scoop and roll onto your sheet pan

Bake on parchment lined pants, in the oven 8 to 10 minutes

When done, remove from the oven and let rest a few minutes in the pan, then place on a rack to cool

Prepare a glaze;

Blend confectioners sugar, lemon juice or milk, a pinch of salt.

Optional for the glaze could be several drops of almond extract or anise extract.

Combined until the consistency of a glaze you prefer, dip cookies upside down into the glaze then place right side up on the rack to drip dry
** When I made these on the live I left out teh baking soda and found I liked them that way.. will have to try it with next time

This is another of those handwritten treasures I found in an old recipe box while thrifting.