Yes – really.. carrots.. ok so it's not really "hummus" (unless you actually add the Garbanzo beans) but the creamy, grainy texture that the roasted carrots and sesame paste creates with this recipe gives you great mouth feel and flavor. I found the recipe initially on the Joanne Weir website for CreateTV and adapted it some for my taste (and the fact I had forgotten that I ran out of cumin).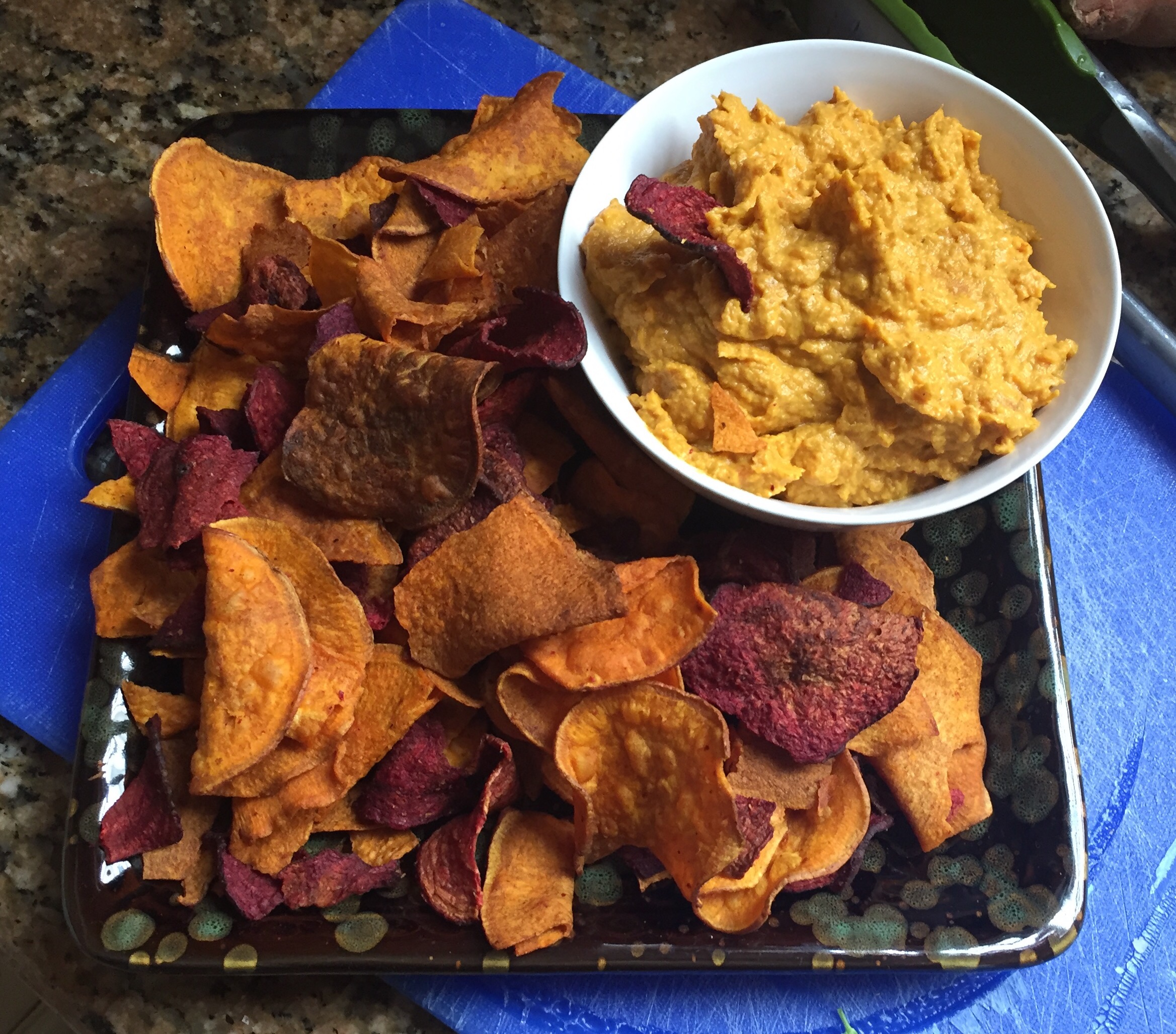 Here is my version of the adapted recipe;
This version makes about 1 -1/4 cups of dip  – but its pretty forgiving and I  say double there recipe, it's that good.
Ingredients
3 large carrots, (about 12 ounces) roughly cut into 1-inch pieces
Kosher salt
1 1/2 tablespoons extra virgin olive oil*
2 tablespoons tahini (sesame paste in a pinch peanut butter or almond butter will work too I bet), well stirred (I might use up to 2 teaspoons more next time)
1 teaspoon light brown sugar
1/2 teaspoon of smoked paprika (original recipe used 1/2 teaspoon ground cumin)
1 teaspoon of honey
Pinch crushed red chili pepper, or cayenne  (or to taste)
2 to 4 tablespoons water
Fresh squeezed lemon juice to taste
* I am thinking good quality using flavored oils like Lemon, Blood Orange or Chili might rock this dish too
Instructions
Heat up the oven to 375°F.
Place the carrots, salt, and olive oil on a large piece of foil or parchment paper. Toss together. Wrap them up and seal the edges so the steam doesn't escape.
Bake in the oven until tender, 30 to 40 minutes.
Open the paper and continue to roast for 5 minutes.
Remove from the oven and cool completely.
Pour the entire packet of carrots and oil into to the food processor with the remaining ingredients (except for the water and lemon juice).
Process until smooth, scraping down the sides of the bowl.
Add water if needed to make a thick dip the consistency of hummus.
Season with salt and lemon juice to taste. This is also when you can add more honey, spices etc.
Joanne Weir's recipes calls for serving the dip with thin sliced root vegetable "chips" but for me I used Terra Brand chips. Anything that can scoop will work. To check out the original inspiration for this version, visit Joanne Weir's recipe
here
This will keep in the refrigerator for a few days but I take it out about 20 min before serving.