Overall The Arena at the Mohegan Sun Casino a nice facility; good sized, and has a solid sound system. It's clean and does't feel as "cold" as some arena's. Staff are pretty cordial from scanning through food consessions. My biggest disappointment and the reason I don't to give it more than a three if I were rating it out of 5, is around its no "outside" food rule.
We were traveling with a senior, and  had stopped to have a meal in the casino while the kids were watching the lacrosse game. Our plan was then to head out to watch the kids actually get a chance to play on the field after playing in the casino and eating.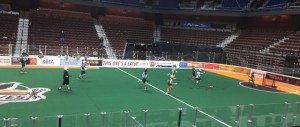 We had eaten at Hash House A Go Go, so as the real game ended and we entered to see the kids,  they wouldn't let us bring the leftovers in. Forcing us to toss it.
So that was a disappointment and with the money spent in the casino and for the meal that we had enjoyed, the experience "left a bad taste in my mouth".
If I were in town and planning to use the Arena again I would be less inclined to make use of the casino and food as part of the package evening in the future.