This weekend was definitely one of those – lets stay in and cook ones. Between the rain and the miserable drivers; it just was worth it to me to head out on Saturday night. So while figuring out what to make, Paul suggested I do Chicken Pot Pie.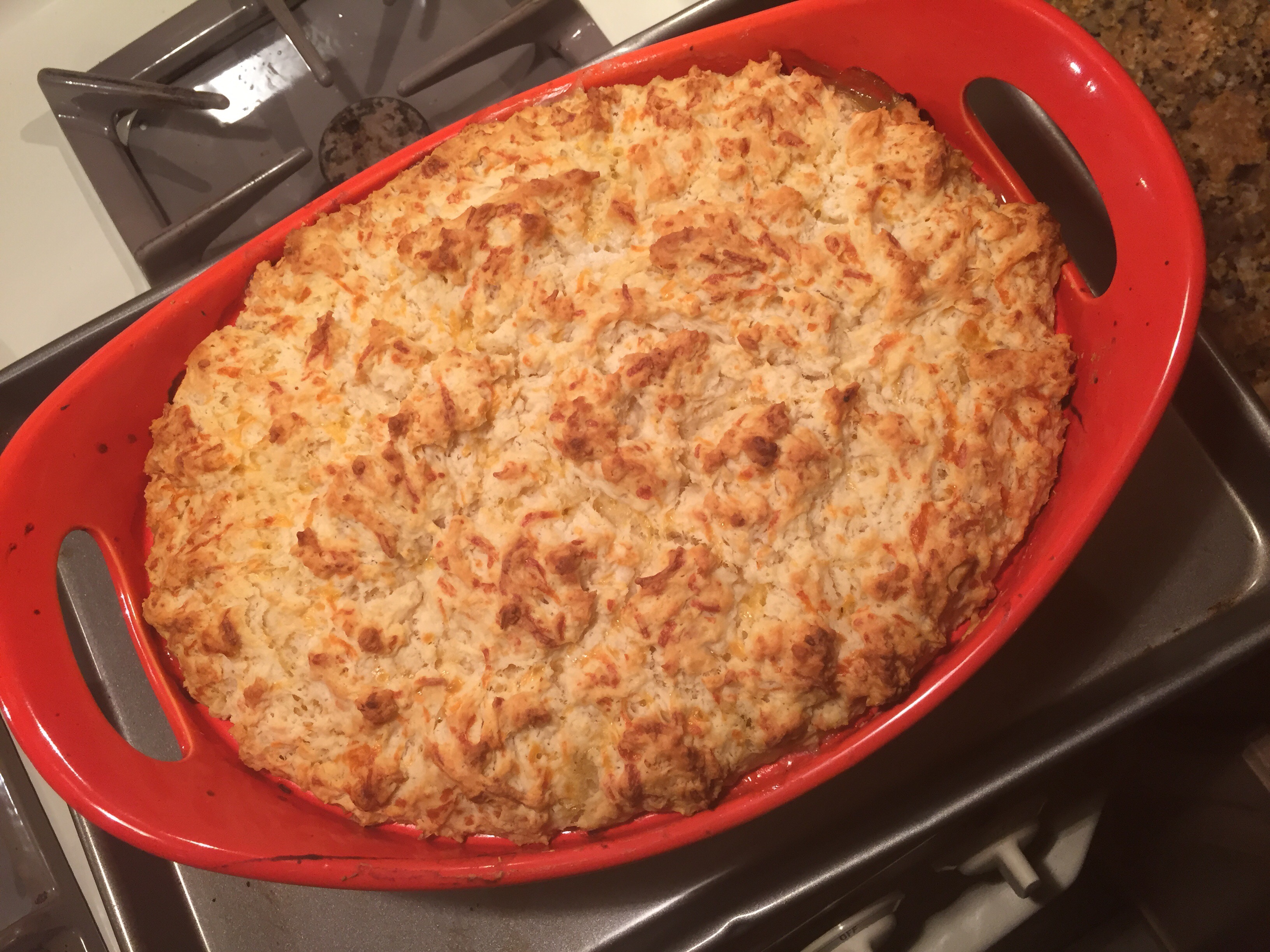 Seemed like a good idea and one that would be able to handle a casual night at home. The is the adapted recipe I use.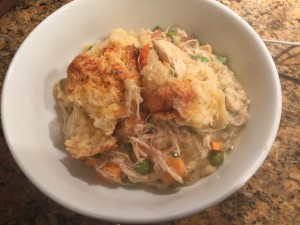 Note: For this version I worked with what was already "almost, almost" home made. That meant I used a boxed biscuit mix (2 of them), Cooked and shredded chicken; our local grocery store roasts them and started selling the shredded meat. To make this even easier – use the pre-chopped veggies. the other important thing to remember about this recipe is that the amounts are suggestion – customize it to what you have handy.
What to have handy:
1-2 tablespoon of canola or corn oil (coconut or olive oil will work too I am thinking)
1 clove of garlic (or 1-2 teaspoons of pureed Garlic from the tube)
1/2 – 1 cup flour
2 cups chopped Carrots
2 cups cubed Yams
1 cup chopped Celery
1 med Onions chopped
1 bag frozen Peas
2 packages of cooked touch shred chicken (between 3-4 cups)
7 cups of Chicken Stock (low sodium)
1/4 – 1/2 teaspoon Salt
1/4 – 1/2 teaspoonPepper
Chopped Parsley
Poultry spice mix (or any combination your prefer)
Preheat the oven to 425 degrees
In a heavy skillet; over medium-high heat (for cast iron pan, you may want to used medium heat and gauge the heat level once hot):
Toss in the oil, carrots and yams, stir to coat with oil for 2-3 minutes, then add celery, onions. Stir and cook another 3 minutes, add garlic, salt, pepper and 1 teaspoon of the poultry spice mix. Stir and continue to cook until veggies are cooked through but not browned.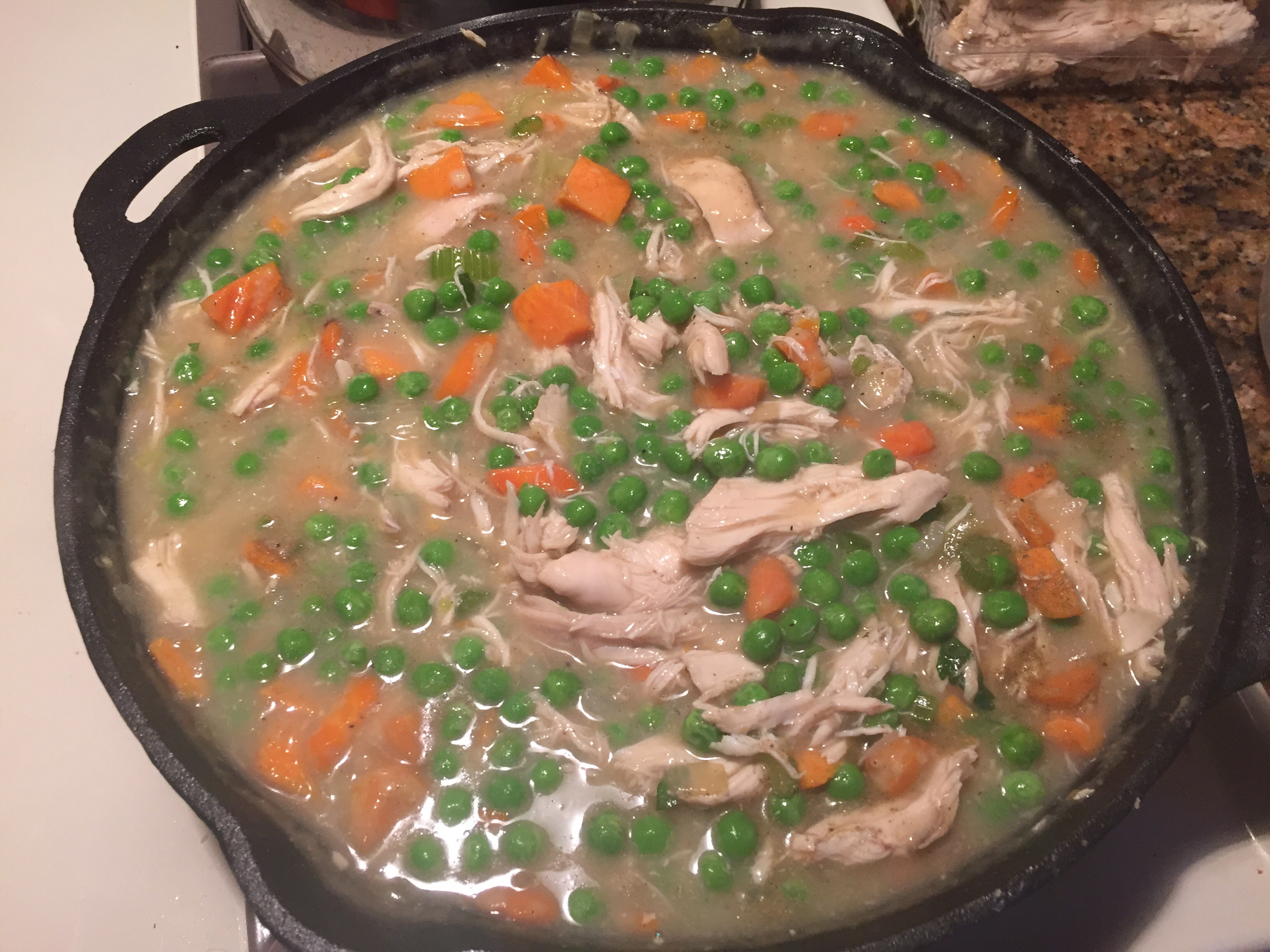 Add 1/2 cup of flour (or a gluten free alternative) on top of the veggies and stir, cooking for a few minutes more.
Add 6 cups of chicken stock, holding back 1 cup for later if needed.
Now – if by now you realize your skillet isn't large enough (which happened to me),  take out 1/2 of the mixture and add it to your casserole dish. If you are using a 1/2 recipe you can actually back the whole dish in the skillet.
Add the chicken, carefully stir the mixture slowly until it boils, them lower the heat and simmer 8-10 minutes. TASTE IT!  Does it need more salt, pepper, etc.
(It should thicken some – it you find it isn't thick enough, add some of the remaining flour to 1/2 cup of the remaining stock, whisk and add to the mixture, stirring until you get the consistency you want)
Remove from the heat.
Add chopped parsley (or other fresh herbs to your taste), stir and pour into your casserole pan (or leave in the skillet if is over safe).
For the topping;
Mix up a prepared biscuit mix as instructed. I used Red Lobster Cheddar Herb Biscuit mix but any will do or you can make your own.
Spoon (or use your hands its a pretty sticky dough) to cover the "pie". This creates the top "crust". Try not to layer it on thicker than an inch or so – if you do – you may need to let it cook longer. to make sure the under side of the biscuits cook.
Bake
Place casserole on a cookie sheet, and place in the oven. Bake at 425 degrees for  35 – 45 minutes.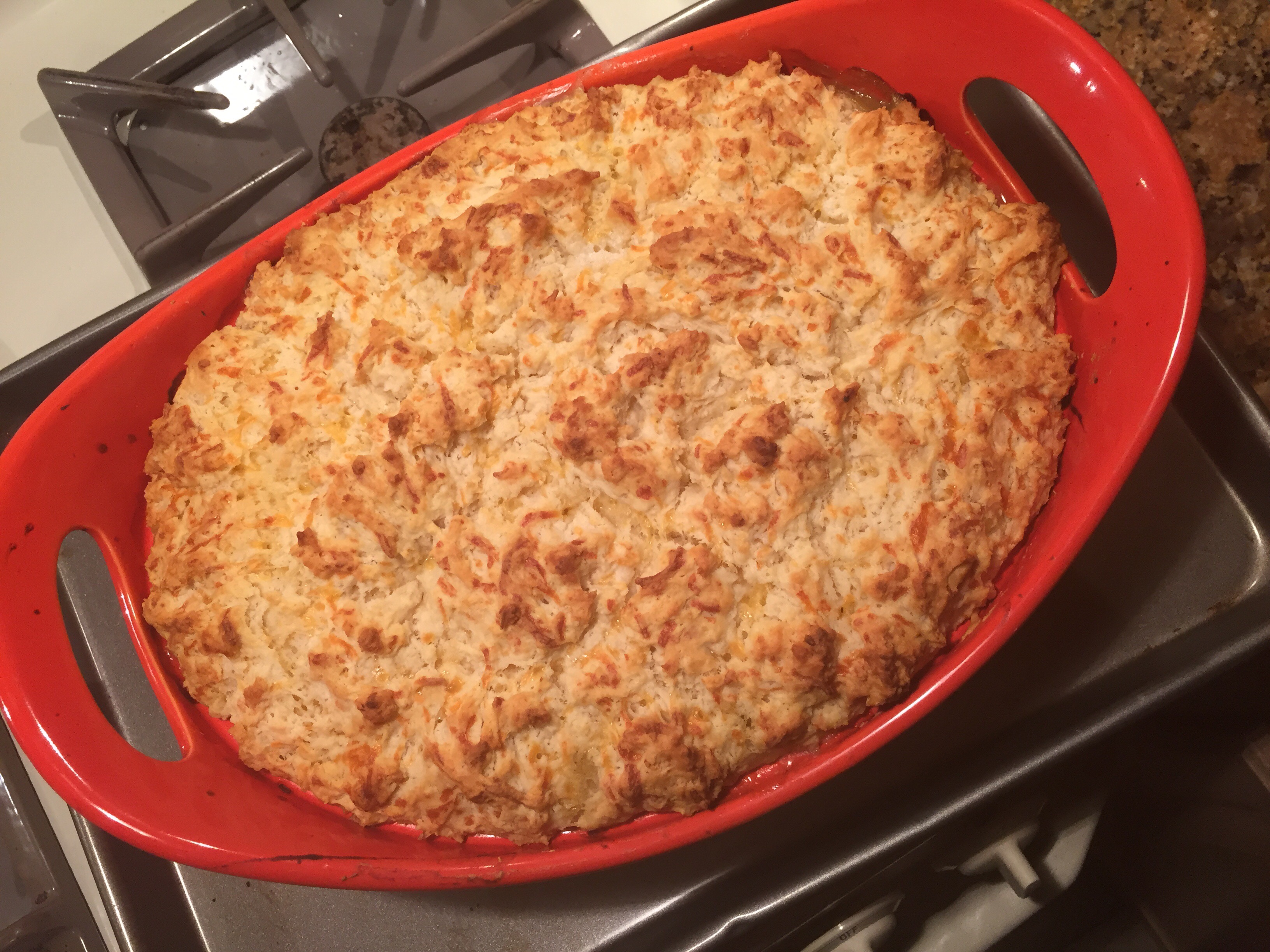 Around 30 minutes check the biscuit topping; if the top is browning too much – loosly place foil over the top for the rest of the cooking time.
Optional:
While baking- melt butter and mix with herbs ( I used 1/2 packet of the herb packet from the biscuits – but any will do).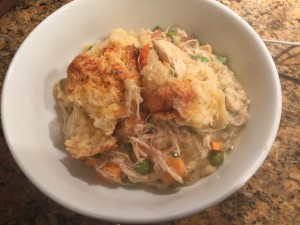 When you remove from the oven, brush the melted herb butter over the top of the biscuit topping.