Here they are
I figured it was easier to post the links in one place for folks than trying to constantly add links to the recipes on Facebook. Since many of you asked about the recipes for the South African Chocolate Pepper Cookies and the Polenta Parmesan Cookies I mentioned on an earlier this week, I will start with them.
Black Pepper Chocolate Cookies
This recipe is pretty easy and I recommend you read the instructions a few times first. The Author also suggests starting with the minimum amount of black pepper and then ramp up. I think when I make a new batch I will increase the black pepper up a 1/2 tablespoon. I think you might also be able to swap out the pepper for other types you might have handy as well.
The recipe link is from the website Food52 and was reposted according to the author notes: Text and recipe from Where Flavor Where Flavor Was Born by Andreas Viestad Born by Andreas Viestad (Chronicle, 2007).
Polenta Parmesan Cookies
This recipe was in the December 2018 issue of Food Network Magazine on page 84. The recipe itself is pretty basic and already I am thinking adaptions. Such as making them a bit thicker and turning them into "thumb" print cookies and topping with pepper jelly or a tomato bacon relish. To the taste, they read both sweet and savory so I imagine I could also top with Lemon Rind Jelly.  Just a note on this one – it does need to time to chill. I made mine the night before and sliced and cooked them the next day.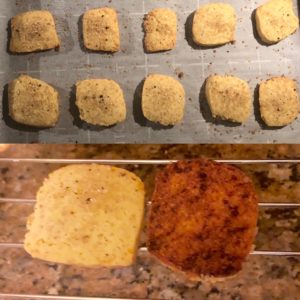 The recipe link is Polenta-Polenta-Parmesan Cookies on Food Network Magazine