So last month I found a Low Country recipe for a cheesy sausage biscuit snack from Hoppin Johns Low Country cookbook; unlike a regular fluffy biscuit these are a much more dense & compact bite that are meant to be a cross between a savory "cookie" and a snack bite.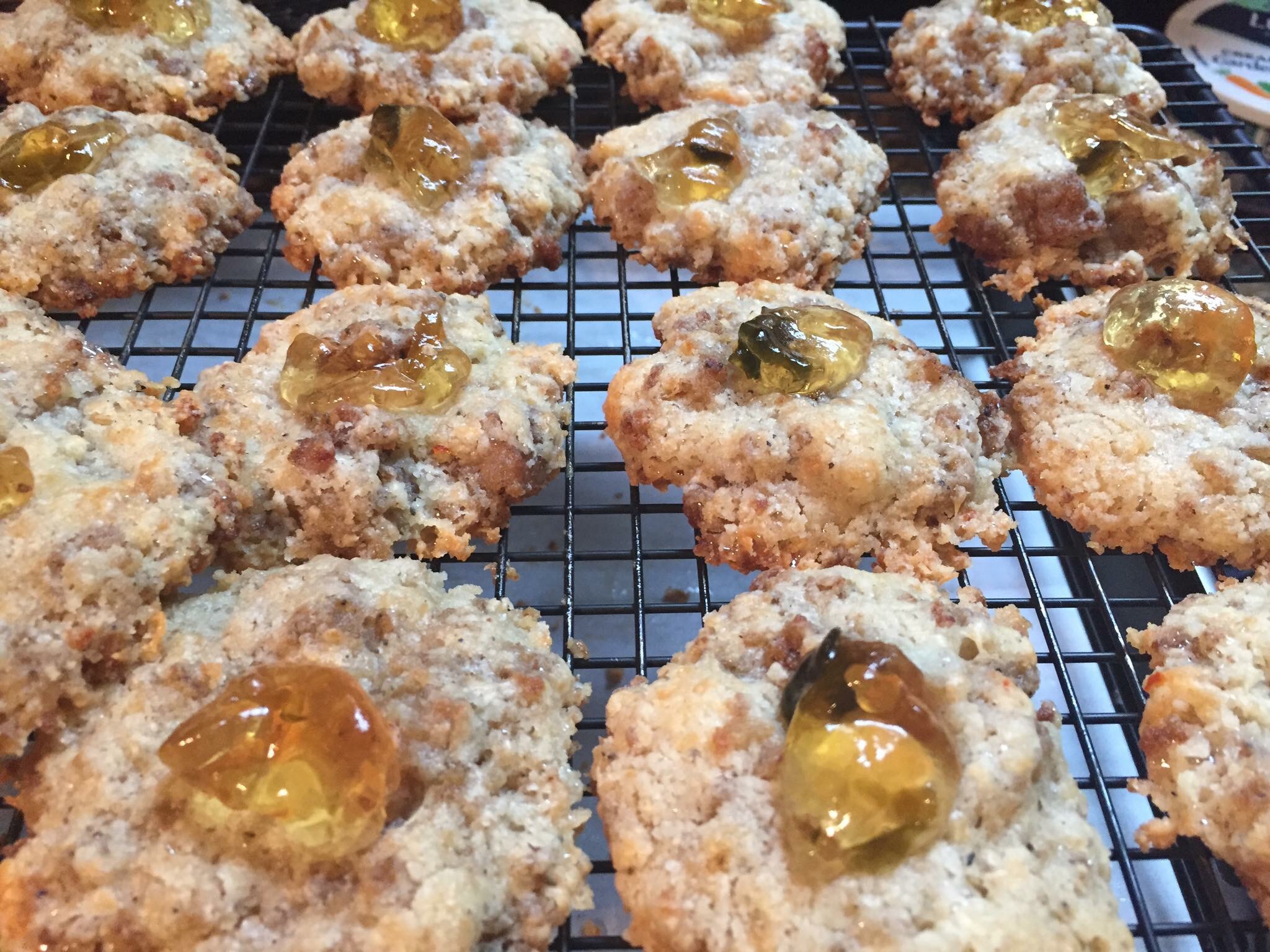 The only change I made after making it a couple times is the addition of a topping of pepper jelly, almost making it like a "thumbprint cookie". The bite and coolness of the jelly on the dense snack adds a nice break in the flavor.
But there was still a taste of "flour" to it that I didn't care for, so I kept looking for an alternative which I found in a recent more Italian style version from Valerie Bertinelli's cookbook.
This cheesy sausage snack uses Bisquick instead of flour, uncooked bulk sasuage and a tablespoon of Tabasco sauce with a result that comes out hot, crisp, dark-golden brown and gooey good
Ingredients
Oil, for greasing the baking sheets (cooking spray is fine)
3 cups biscuit mix, such as Bisquick
1 pound spicy sausage (uncooked)
Note: you can use so use a pound of mild or sweet sausage and add in several links of hot sausage or any combination of sausage that meets your preference. The key here us it needs to be in bulk or taken out of the casing).
1 tablespoon chopped fresh rosemary
8 ounces aged white Cheddar, grated
8 ounces sharp yellow Cheddar, grated
2 tablespoons of parmesan cheese, grated (this is in addition I added to the Recipe)
1 tablespoon hot sauce, such as Tabasco (or to taste)
Ground pepper to taste
Directions
Preheat the oven to 400 degrees F. Grease 2 baking or cookie sheets and set aside.
Note: I think the oven I use runs hot so 400 actually made them darker than I like, when I cook them in the future I'll be doing them at 350.
Combine the biscuit mix, sausage and rosemary in a large bowl.

Mix with your hands, then work in the white and yellow Cheddars and hot sauce.
Note: this actually may take longer than you think. Because of the limited liquid, its the fat from the sausage as it warms up with your hands that ads to the binding from the mixing. So be prepared to knead this until it's really well combined. One trick is to make sure that your sausage isnt ice cold when you mix it together.
Form into balls the size of walnuts and place on the prepared baking sheets.
Note: I used a small ice cream scooper to divide them out and I tried both just scooping it onto the tray as well as shaping them into balls with my hands and ultimately they both look the same after cooking.
Bake until cooked through, about 18-20 minutes. Serve warm or at room temperature.