For last week's Bookclub, I needed a recipe that would be connected to the theme from the book Oh Pioneers by Willa Cather.After searching around a bit – I found several versions of a local version Runza. Similar to other regional "hand-held meat buns",  such as the spicey one I did in a previous Bookclub. This was version seems to be popular in the books region oNebraskaka with the addition of cabbage to the ground beef and onions. I had some time so I also made a rolled loaf version using pizza dough that mimicked the Cheese Bread recipe I posted about back in November.
Here is my version of the Runza recipe;
Runza
Frozen Bread Dough (I used the frozen bread dough loaves from Safeway which comes in a three pack. Each loaf, thawed allowed to raise will make 6-7 buns)
2 pounds ground beef
1 head of cabbage
1 yellow onion
garlic salt/minced or whatever you like for garlic ( I use the Sage, Thyme & lemon seasoned salt I make)
2 TBSP butter.
Instructions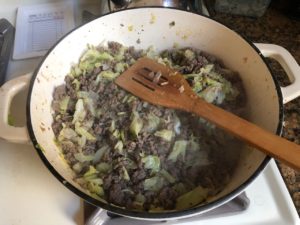 Step 1
Brown ground beef and drain fat, season with salt and pepper ( you can do this in two pans if you like)
Add chopped onion, garlic, butter, and chopped cabbage. Cook until wilted (7-10 min) on med-high. Mix with meat if done separately and let cool.
Note: You can also brown meat, season, then set aside and in a second pan sauté cabbage, onion and garlic, season with salt and pepper at each step. Then toss together. 
Follow package instructions for bread dough (or make your own); Let the dough thaw covered and raise for up to 5 hours or as directed on your dough.
Cut and Roll into small sections.
Preheat oven to 350
When ready to make
Flatten each section
Add ¼ to ½ cup of the cooled beef mixture to rolled out sections of dough. Fold and seal in half/wrap/shape how you wish but gently compress the air out of each bun.
Let sit covered with plastic wrap 20 min. (Or freeze them for later)
Prior to baking coat with melted, salted butter, oil or an egg wash. Omit butter topping if you want a crisper bun
Bake uncovered middle rack for 30-35 minutes at 350 degrees.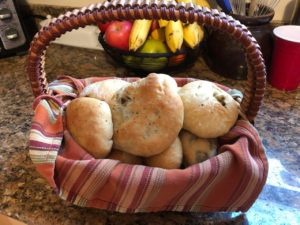 A few hints;
Pizza dough works well too.
Mix in small cubes of cheddar cheese in the cooled mix for a different variation.
Update: if you have leftover stuffing it makes a great addition to a simple soup. Simmer carrots, veggie or chicken stock, a few bay leaves, parsley, a can or two of drained canned beans and pepper for 50 mins.
Then add the meat & cabbage stuffing, ( you can also toss in leftover rice or pasta) simmer on med for another 30 min more. Toss in some halved cherry tomatoes. Serve
SaveSave