Yup.. a Crown is what I said.
This was my season of "crafting" between making Meyer Lemon Marmalade, Seasoned Salts for gifts.
So a few people saw the end result of my "call for used and old jewelry" before the holidays. But a few of you asked to see the finished project. But let me step back a moment and explain w
hat started this journey. For many years, each holiday season I would see this version in the window of an old "crim cram" shop each holiday season. If stuck with me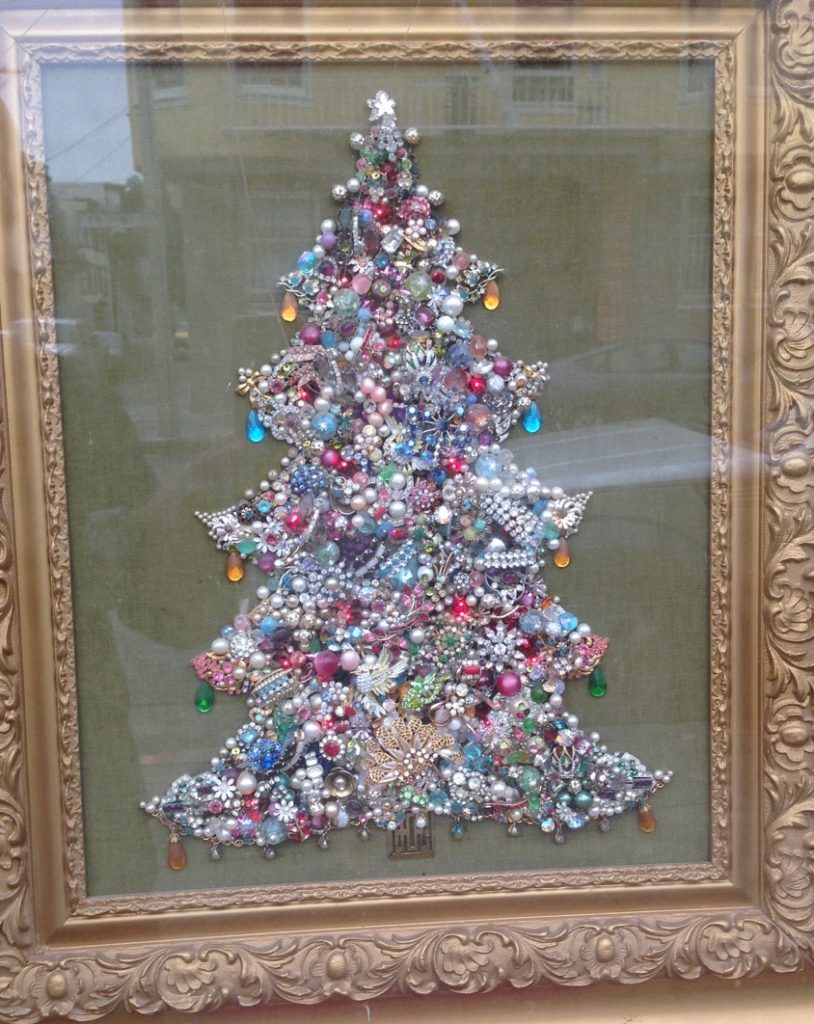 and this fall I committed to making one for us.
When I started it, it was to make something for us at the house, as luck would have it, a friend had an entire box of old jewelry collected back over several generations that she didn't want and was glad to hand them over to me. So that began the process of making it real. But as I said, while this was supposed to be for us, it morphed into my deciding to make it as a gift for someone that would also have a timer lights and framed.
Getting started on the "Crown"
Designs
I knew I wanted a crown theme and that some crown pins would serve as the foundation pieces. So I went online and looked for stencils. When I found the one I wanted, I printed it to size and then used a sharp nail to outline it on the paper I intended to use as my background.
Cleaning: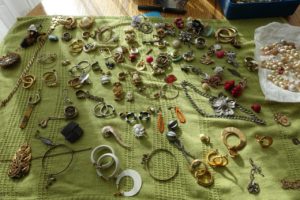 After doing some checking online on how best to clean them and get rid of some of the "old smell" I opted for washing them in a bath of warm water, a drop of Dawn Dish Soap, Ultra Dishwashing Liquid, Original Scent, Blue, 21.6 Fl Oz (Pack of 2 ),
a few drops of tea tree oil and a splash of hydrogen peroxide. I only let them soak for a few minutes, then rinse them in cool clear water and dried them in the sun. The next
 step took the most time – separating the pieces into three groups; 1) for the mosaic, 2) for other projects and 3) too nice to break apart – hold on too for now.
Logistics:
After selected a background, and once I started the laying out the signature pieces of the mosaic and I realized I needed to choose how I was going to secure the pieces. I opted for Devcon 18245 Weld-It Cement – 1 oz.. It dries clear and stayed tacky long enough for me to move and shift things. I also lucked out with the thin wire lights with a timer that I had around the house – but these would workBRIGHT ZEAL 33′ FT Cool White LED String Lights Battery Operated LED Lights (Silvery Wire, 6hr Timer) – Silver Wire Fairy Lights – LED Christmas Lights – Twinkle Star Firefly Lights LED Battery Lights
. Just make sure to determine how many lights you want.
After that:
It was all about adding pieces and textures, stepping away, coming back and filling in spots. It helped to snap photos and look at them that way from time to time as well. Making sure the frame and mat fit and time for gift giving.
 And not worry.. check out this post which will explain what I did with all the leftover pieces!
SaveSave
SaveSave
SaveSave
SaveSave
SaveSave
SaveSave