So with the Crown Mosaic done and wrapped… I realized I still have some pieces that needed to get a new life beyond finding themselves being sold. So I searched around for ideas and found one! I started making a series of "Book Jewelry" bookmarks.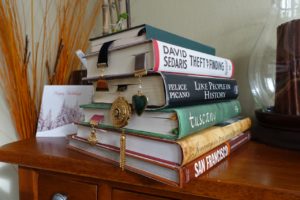 Yup bookmarks, you know those things you used to use before e-readers came along. But these were designed to serve as a functional way to dress up books that often sit unadorned and naked on a coffee table or the bedside table and I supposed if you like a little pizzaz at church they might look good hanging out of the good book some Sunday services.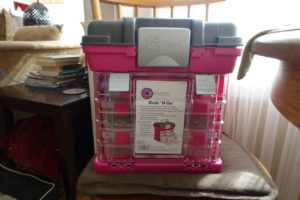 I first needed to organize myself and figured the best way was to store my cleaned and dried pieces in something better than an old shoebox. So I got myself one of these portable organizers, of course as luck would have it – they only had pink that day – but what the hell did I care I had a coupon and it was 50% off.  I got mine at Micheals, but Amazon has them as well; VonHaus Very Small Utility Tool Storage Box – Portable Arts Crafts Organizer Case with 4 Drawers & Adjustable Dividers (10.9 x 10.1 x 6.9 inches – Black/ Orange)
 about the same price.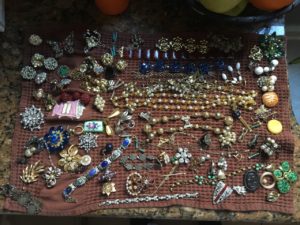 Once I had the pieces cleaned and sorted the same was I did for the Crown Mosaic, I next begin the matching process. I also removed any old threads and looked for creative ways to "gather" them. Think of it as a mental game of visual balance. I didn't want them all to be too "matchy-matchy" so I sorted and looked for other themes to balance them. I tied several types of ribbons and found I favored the velvet ones in black and grey. I went online and ordered a few kits of crimp ends (often used when making ribbon chokers) in different finishes. they aren't very expensive and you can like them in local resources as well. In the end, I changed combinations as I went on, and sometimes when I had someone specific in mind. But the idea was to reuse them to catch someone's eye.to give them as gifts I found some inexpensive slimline journals to "package" them in for mailing (except for the folks who we actually purchased books for.
Of course, I didn't stop there – so the latest round is being adapted is for journalers and planner users, with a closed design that loops around the cover and pages.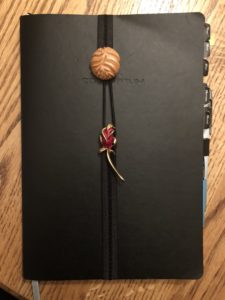 It kind of makes me happy to see these pieces getting a new life. .. and yea if you have some bits and pieces around your homes, or come across those boxes of them in the attic – send them my way!  several folks about my selling them. I hadn't planned on it, but it is possible jsut drop me a message via the BitetheRoad Facebook page facebook.com/bitetheroad
SaveSave
SaveSave
SaveSave
SaveSave
SaveSave
SaveSave
SaveSave
SaveSave