After cooking an early thanksgiving dinner for ourselves, knowing we were planing to travel on Thanksgiving itself – we opted to make reservation for dinner that night. Trio Resturant Palm Springs came up on our lists to try and they had a seating so we went for it. The holiday prix fixe menu was your standard Thanksgiving theme with the option of soup or salad, beef or turkey and assorted sides and choice of apple or pumpkin pie.
While the place was pretty crowded, I was first of all impressed that it didn't have that "frenzied" feel some resturant get when they run a holiday menu. The volume was manageable without being stuffy. Of course the orange theme running through it didn't hurt me visually as its a signature color I love.
We were seated quick and our waiter, Terrence couldn't have been more welcoming. He bridged that perfect place between friendly and genuine with calm efficiency. If fact towards the end of our meal – he checked in and we enjoyed talking with him more. This is the kind of service that brings the human touch to travelers and generally often what keeps me coming back to a resturant.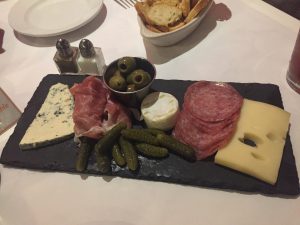 The meal it self was good. I had the butternut squash soup with fried sage leaves. It was nice, not as rich as they tend to be (which I happen to lean towards) but fit nicely for a big meal. We also added in the Charcuterie & Artisan Cheese Plate which was a win. Since we had been eating turkey and leftovers for several days – we opted for the beef. Both cuts, my "end cut" and his regular cut were perfect to order medium, hot and tender.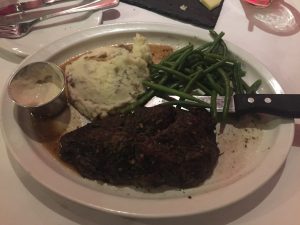 Not sure I could have cooked it any better myself. The sides of mashed potato and string beans were good, nicely prepared with out trying to be more than they are supposed to be. The only minor disappointment was the dessert. Both pies were somewhat lackluster. The under-crust on the pies were soft and had that "undercooked" taste that sometimes come with pre-made pies and the fillings were not especially well flavored. Over all – a good solid meal and a place I will go back too for a regular dinner or lunch.
From a geek perspective – I love the interactive way they have embraced social media and the dining experience. They put it out there for people to share and I post. Something I greatly appreciate! They even gave it front and center attention;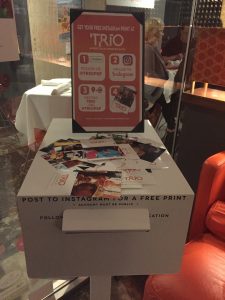 TRIO Restaurant
707 N Palm Canyon Dr
Palm Springs, CA 92262
t: 760.864.8746
e: [email protected]
OPENING HOURS
Monday – Thursday 11am – 10pm
Friday 11am – 11pm
Saturday 10am – 11pm
Sunday 10am – 10pm
$19.95 3-Course Prix Fixe Menu 11am – 6pm, Daily
Happy Hour 11am – 7pm, Daily
Brunch a Go-Go from 10am, Sat & Sun