With tickets to see Napoli ( a period story set in the 40's during the war years in Italy) at the the American Conservatory Theater in San Francisco last week -we decided to make a night of it and grab dinner at Scala's Bistro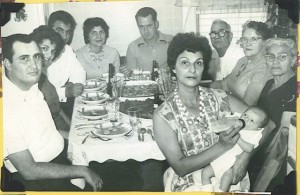 Scala's is a well known and beloved restraint in San Francisco at the Sir Francis Drake. The  Sir Francis will also have a special place
in my heart because it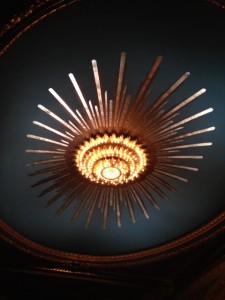 was the first hotel my grandmotherand I went to on a trip when I was young after my grandfather had died. In fact if you have seen the play – this image isn't far from what you would have seen!
But Scala serves up its own history and special place – because it continues to earn it.
Having been one of my favorite traditional style restaurants here in San Francisco for well over 15 years – I continue to go for celebrations and when I want memories to be made. Not only has it been home to some great chef's over the years, it offer great servers who know how to work its menu to ensure a perfect dining experience to match any palette.  Much of the menu is solid, good prepared dishes that glen richness, texture and flavor – while leaving you feeling like you have been well fed.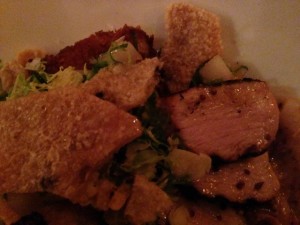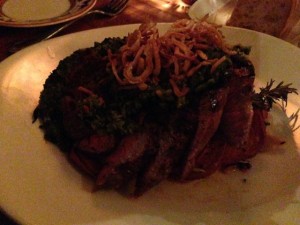 This trip we opted for the Pork Loin with cabbage and the New York Strip
The risotto is some of the best, the meats all come with rich flavors and combinations you can want. Another must try is the cured meat starter – paired with some cheeses and toast. Its well done, nicely portioned, simple and yet has all the richness I like with cured meat plates. I think I have eaten one version of this almost every time – in fact the only dish that used to knock it off the pedestal for me was the watermelon, feta cheese salad that sadly is no longer on the menu for some years now.
Note: When crowded don't overlook eating in the bar – you get seated and served often quickly and can usually get in that way with out a reservation.
432 Powell St
San Francisco, CA 94102
b/t Post St & Sutter St in Union Square
Phone number (415) 395-8555