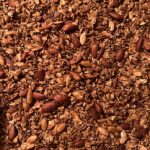 When Paul asked me to start shifting away from processed foods, and refined sugars and add more plant-based meals into our diet to help with his recently diagnosed sugar issues. I took to the challenge of trying new recipes and creating others that would appeal to me and him. This recipe for a homemade granola is one of them I found. Based on a version by Nigella Lawson, I amped up the flavors a bit for our tastes. My next version is to go for a savory version.
INGREDIENTS
Makes: enough to fill 6 cup jar or air-tight container. It should keep for a good few months if it lasts that long which it won't. It's oddly addictive.
3 cups quick-cooking oats  (not instant)
2-3 heaping teaspoons ground ginger
3 heaping teaspoons ground cinnamon
1 teaspoon kosher salt
¾ cup natural skin-on almonds
½ cup sunflower seeds
½ cup pumpkin seeds
⅓ cup brown flaxseed
½ cup sliced almonds (optionally here you can add a different nut of your preference)
3 tablespoons sesame seeds
3 Tablespoons of chia seeds
½ cup extra virgin olive oil (I also will use coconut or walnut oil)
½ cup maple syrup. (I use keto syrup from Birch Benders brand)
You can use other nuts or spices as is your preference or what you have on hand as well (for instance clove, nutmeg, cardamon, pecans, walnuts, flaked coconut etc
Making it
You will need a large baking/cookie sheet pan with an edge. 
Preheat the oven to 300 degrees and line your baking sheet with baking parchment.
In a large bowl, toss together the oats, spices and salt.
Add in the nuts and seeds, and mix well again.
In a measuring cup, combine the oil and maple syrup, then pour the mixture into the oats, nuts and seeds and, with a fork, mix to combine.

 

Pour onto a parchment-lined baking sheet pan, and move it around so that it covers the tray evenly. You may want to split this into two pans depending on the size of yours.
Place it in the oven, on the center rack, and bake for 30 minutes and then, stir the granola to mix and toast the underside as well. Place it back in the oven for another 30 minutes.

 

When done, remove from the oven and let the pan sit on a wire rack until the granola's cold.
Once cool you can add dried fruit (optional – you do not want to cook the dried fruit with the nuts and seeds as they will get too hard)
I even used this as a base for a dairy free, sugar-free oatmeal, sugar-free chocolate chip cookies the other days to rave reviews from Paul