My partner, Paul and his colleague M, wanted to have a dinner party with some folks from work; so I was volunteered to help pull the dinner party off – I wonder if I can pull this look off?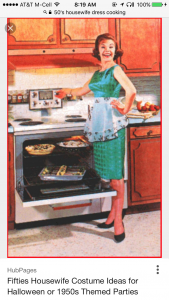 Since were going to hold it at her house, my thoughts were to go simple with good standards fitting the weather; so that means;
A vegan Carrot "Hummus" with raw veggies as the chips
For the main course; since the Mexican chicken soup was such a hit two weeks ago at home and is slow cooker friendly –  it's up again. Topped with all the fixings after a long slow cook and shredding the chicken – its a perfect rainy friday night dish.
For after supper, my favorite adaption of a black pepper biscotti and a new version of the old school italian "Ugly But Good" almond paste cookie should set the table for a great social tonight.
Others will bring salad, cheese and crackers, and we've got a fresh loaf of baked bread to round it all off.



Recipes:
I first made the Carrot Hummus at Easter and posted about it here. I found the recipe initially on the Joanne Weir website for CreateTV and adapted it some for my taste. For this version I adapted it as a fully vegan version with out oil.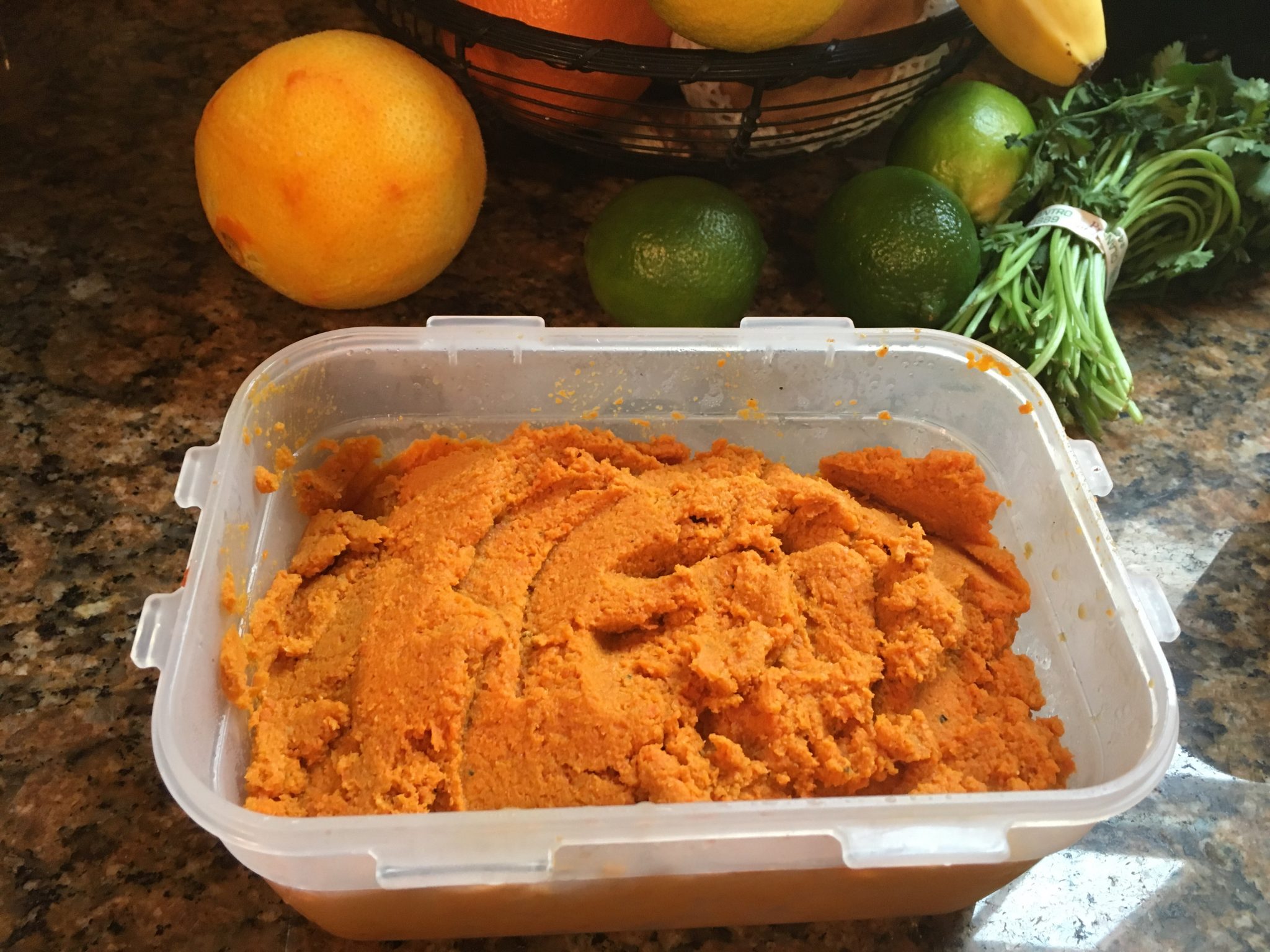 Ingredients
2 1/2 lbs  large carrots, roughly cut into 1-inch pieces
4 pieces of pealed garlic whole
Kosher salt
1 1/2 tablespoons Agave Nectar
2 tablespoons tahini (sesame paste in a pinch peanut butter or almond butter will work too I bet), well stirred (I might use up to 2 teaspoons more next time)
2 Tablespoons of sesame seeds, roasted and ground
1 teaspoon light brown sugar
1/2 teaspoon ground cumin
1/2 teaspoon toasted and ground cardamom
Pinch crushed red chili pepper, or cayenne  (or to taste)
Juice and peel of one lemon
Fresh squeezed lemon juice to taste
Note: for the next time I plan to try these with grilled carrots, garlic and ginger then puree.
Instructions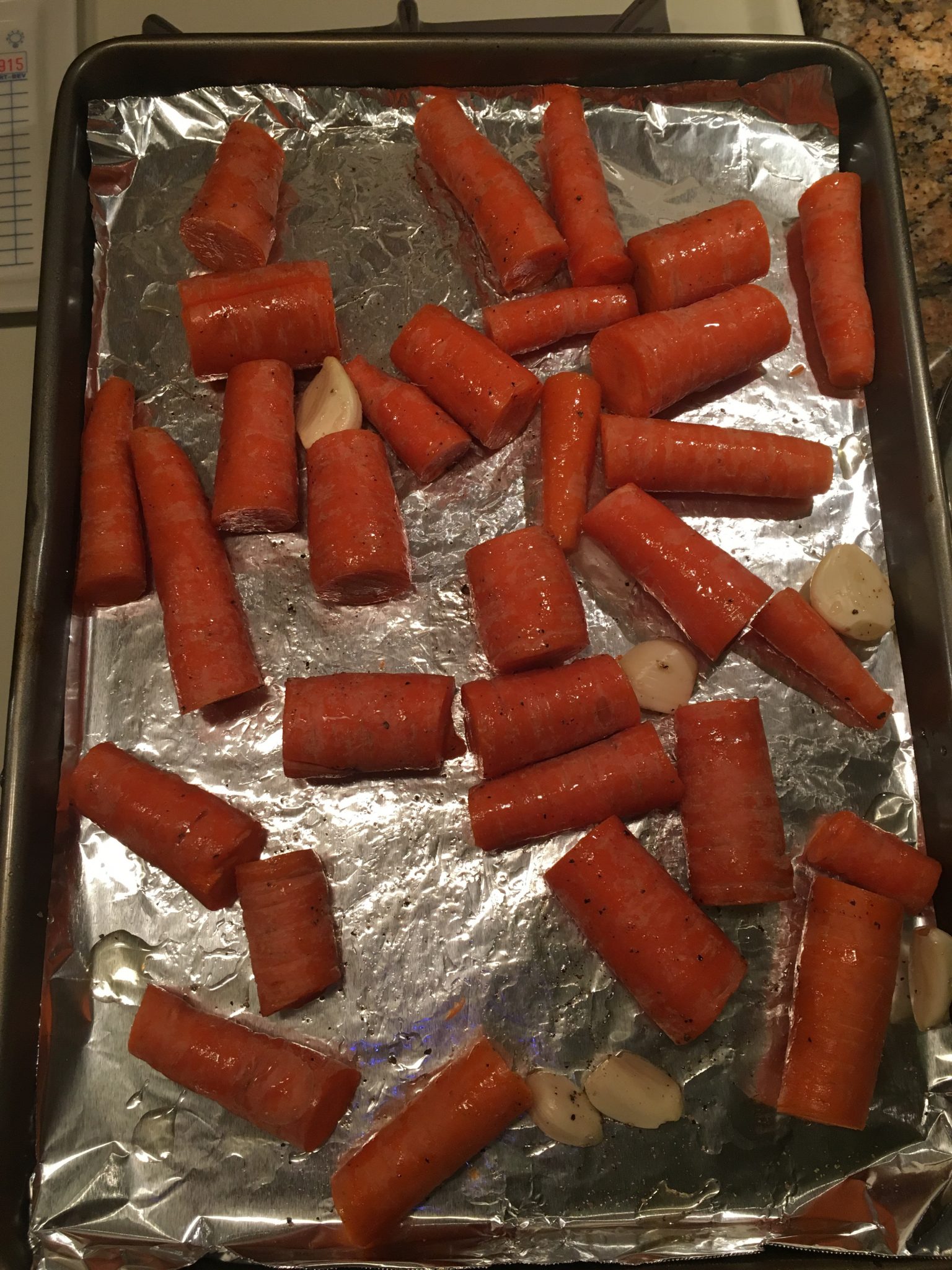 Heat up the oven to 375°F.
Place the carrots, salt, and agave on a large piece of foil or parchment paper. Toss together.  (I wanted a bit of a char on them so didn't cover them, but it you wrap them up and seal the edges so the steam doesn't escape. you will get a more mellow taste)
Bake in the oven until tender, 20 minutes. Stir and continue to roast for 20 minutes.
Remove from the oven and cool completely.
Pour the entire packet of carrots and oil into to the food processor with the remaining ingredients (except for the water and lemon juice).
Process until smooth, scraping down the sides of the bowl.
Add water if needed to make a thick dip the consistency of hummus.
Season with salt and lemon juice to taste. This is also when you can add more honey, spices etc.
Joanne Weir's recipes calls for serving the dip with thin sliced root vegetable "chips" but few are going with fresh veggies.  To check out the original inspiration for this version, visit Joanne Weir's recipe 
here
This will keep in the refrigerator for a few days but I take it out about 20 min before serving.
For the Soup
I first came across this on  Ree Drummond's  Food Network show the Pioneer Woman but she also did a version on her blog back in 2015 here. I made a first batch a few weeks ago and was surprised at how good and easy it was. I have made some adaptions for our tastes below.
5 boneless, skinless whole chicken breasts (The original recipe called for 3 – but I needed family stye for men)
1 teaspoon chili powder
1 teaspoon ground cumin
Kosher salt and freshly ground black pepper
One 28-ounce can whole or diced tomatoes, with juice
32 ounce low-sodium chicken broth (you can add less initially if you want it thicker)
2  15-ounce can black beans, drained and rinsed
One 10-ounce can diced tomatoes with green chiles, such as Ro*tel
1 small can of tomato paste
1 medium onion, chopped
1 red bell pepper, seeded and chopped
1 yellow bell pepper, seeded and chopped
2 small or 1 large pepper chopped and  1 teaspoon of the adobo sauce from a canned chipotle pepper in adobo (you may add more peppers if you like but it has some heat – I will leave the rest as a garnish)
Juice of  1/2 to 1 lime, (to taste – you could end up using the whole lime or serve some as garnish)
1 can of roasted corn (or fresh roasted off the grill if you have it)
Salt, Pepper and Cumin one side of the chicken and lay flat in the bottom of slow cooker. add more pepper salt, cumin and the chili powder.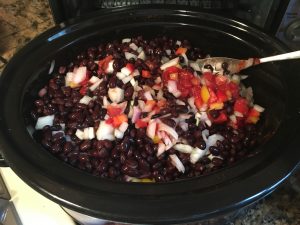 In layers, add the tomatoes, black beans, tomatoes with chiles, tomato paste, onion, chipotle pepper and red and yellow peppers, chicken broth. Stir, place the lid on the slow cooker and cook for 5 hours on high or 8 hours on low.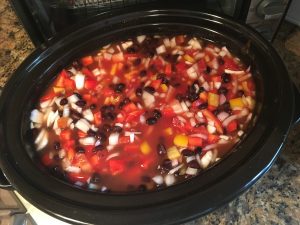 Add in the corn (with out it's liquid). Stir in the lime juice. Remove the chicken to a plate and use 2 forks to break it into chunks (or shred it finely). Return the chicken to the pot, taste and add more seasoning if necessary.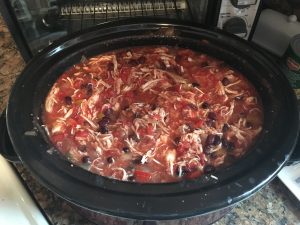 Serve piping hot in a bowl with avocado, sour cream, grated cheese, crushed tortilla chips and cilantro leaves on top!
Don't forget to serve it with the fixings – it makes the whole dish: avocado, sour cream, crumbled cheese, crushed tortilla chips and fresh cilantro leaves
And of course the Cookies
Black Pepper, Vanilla & Orange peel  I wrote about on "the battle rages on" which is actually yet its own adapted recipe  Valerie Bertinelli's Helen's Black Pepper Biscotti is one I know Paul's boss loves. So this was a remake for her.
Ingredients
 2 3/4 cups all-purpose flour
 1/2 teaspoon baking soda*
 1/2 teaspoon baking powder*
 1 tablespoon freshly ground black pepper ( I use a mix of fine ground and course grind for taste and texture.)**
 Pinch kosher salt
 1/2 cup (1 stick) unsalted butter, softened
 1 cup sugar
 3 large eggs, at room temperature
 2 teaspoons grated orange zest (I tend to get the organic ones or ones I pick from my pals garden- depending on size of orange this may be 1 -oranges )
The zest of one lemon
 1 1/2 teaspoons vanilla extract
 1/4 teaspoon almond extract
** To give these a visual pop – you can ground peppercorns that are other colors over the traditional black)
Sift together the flour, baking soda and baking powder in a medium bowl. Stir in the pepper and salt. Set aside.
In the bowl of a stand 
mixer
 fitted with the paddle attachment, beat the butter on high speed until pale and light, have the patience to let it do it's work – it could take several minutes. Add the 
sugar
 and beat until light and fluffy, about 7 minutes. Reduce the speed to low and add the eggs one at a time, beating well after each addition. Add the 
orange zest
 and vanilla and almond 
extract
 .
With the mixer on low, slowly pour in the flour mixture, and then the walnuts. Mix a few minutes till the dough texture is formed a sticky mess 😉 .
(You can also do this by hand and fold them in then work the dough by hand till smooth).
Pour the dough out on to a lightly floured plastic wrap covered surface or clean counter top. Gently knead the dough to shape with your hands to form a thick round ball shape. The dough is super easy to handle at this piont. Cover the dough with plastic wrap and refrigerate for 30 minutes. (For this batch I omitted nuts).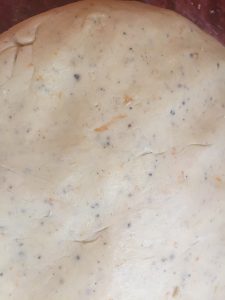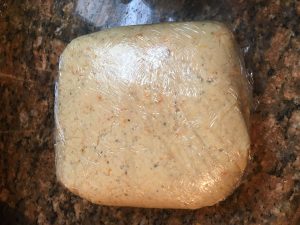 Preheat the oven to 350 degrees F. Line 2 baking sheets with parchment paper ( nonstick silicone liners also work).
Remove from the refrigerator, unwrap and divide the dough in half,  and shape each piece into a 12-inch log, about 2 inches across and 1 inch tall. (note you can make these as wide or thick as you like – I find because of the texture and taste of these, I tend to like a finished bake that is about 3 inch long and 1.5 inch high you may have to play with it a few times). But they don't need to be preferfect. In fact any uniform shape will work.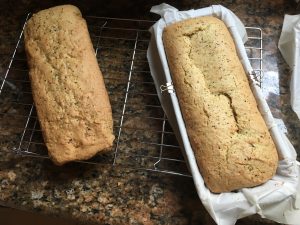 Because I wanted to use less space – I actually cooked this in old-school metal ice trays lined with parchment paper. Bake until the logs are cooked through and lightly browned on the bottom, about between 30 – 35 minutes, depending on your oven and pans.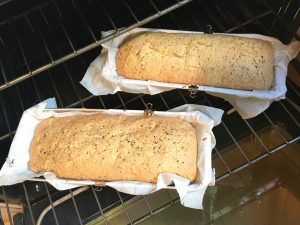 Watch them the last 5- 10 minutes as this could differ based on your pan and stove temp.
Let the logs cool for about 5-7 minutes on the baking sheets (leave the oven on), then transfer them carefully to racks (remove the parchment paper) to cool 10-15 minutes more.
Using a serrated knife, slice each log either on the diagonal (to give you a fancy shape) or straight across into 3/4-inch-thick slices.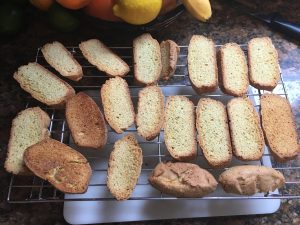 Arrange the slices cut-side down on the baking sheets and return to the oven until well toasted, 10 to 15 minutes more. I general flip mine over about half way to get even color.
Note: These biscotti have a great golden color to them which will darker to as you "second bake". If you want to keep them less brown; adjust time or instead of laying them on the cut sides, leave the standing cooked side down.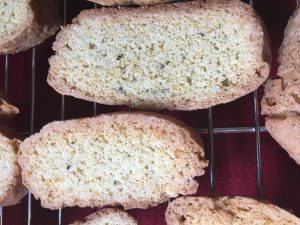 Transfer the biscotti to cooling racks to cool completely. The longer they bake the harder they become. Note: they will continue to harden as they cool. Store in tins or air tight containers (QVC favorite Lock & Lock rock for this). They will keep, tightly covered, up to 1 week.
This Cook's Note came from the recipe website and I thought worth sharing: To toast the walnuts  or most nuts on the stove top, put them in a dry skillet over medium heat and cook, stirring, until golden and fragrant. To toast them in the oven, spread in a single layer on a baking sheet and roast at 350 degrees F until golden and fragrant. In either case- the minute you smell them – get them off the heat.
Ugly But Good Cookies (aka Brutti Ma Buoni)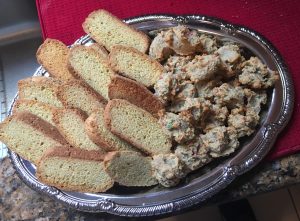 These quick and simple almond cookie are a old-school cookie that adapts well. I have made version chocolate covered cherries, candied ginger, gluten free etc. they are pretty forgiving. Pack a lot of flavor and is a nice "host" gift if you are going to someones for dinner.
Ingredients
Preheat the over to 300 degrees.
In a food processor; blend almond paste and egg white until smooth, add rest of the ingredients until just mixed.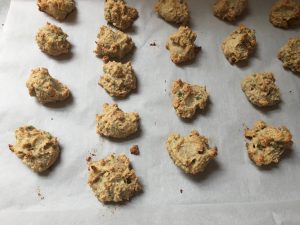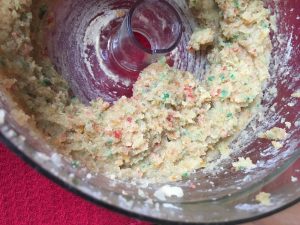 On a parchment paper covered pan, drop  teaspoon sized scoops of the mix. Don't bother trying to make them pretty – they will grow and cook organically which is what is why they named it that way.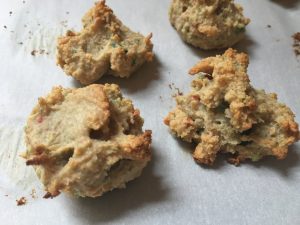 If you are using chocolate or cherries, you could top with a one on the top it try and dress it up.
Bake for 25 minutes till golden. Cool and serve. they should keep about a week in an air tight container.