So I figured this being my last official weekend off before I kick back into writing mode then made to work on the 15th I wanted to get a few things done. After getting the house put back together, and the new bed in place (Oh my god – I think Tuft and Needles  may have a new  customer for life and a new advocate that foam bed don't have to break the bank for more a the bed – see the pending post soon) that I would do something I had been thinking about since my return from Atlanta. I had met someone from Morroco and over the months, talk ended up on food and his Mom shared her recipe for preserved lemons. A must have for Moroccan cooking, not to mention a great way to add lemon flavor with less tartness. So today, I decided to try my hand at it.
Since next door has an abundance of Meyer Lemons I figured it is a perfect way to use them.
Ingredients
Lemons, scrubbed and washed (Meyers or other bright thick skinned ones)
Kosher salt
Black and Red Peppercorns ( you can use all black too)
Cardamon seeds
Cinnamon sticks (halved)
Bay leaves ( about 2 per jar you plane to make for pints sized – use the fresh ones not the dried)
Fresh lemon juice as needed
Instructions:
Wash and scrub the lemons well. Dry. Sanitize your canning jars and lids. My friend's Mom says she tends to make this recipe in a huge glass jar then ofter a month she makes smaller jars to share. But the concept w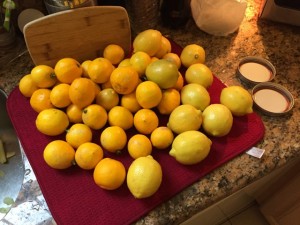 orks the same with the smaller Pints. (Joanne Weirs recipe below uses a quart container for instance.)
Preparation –
Squeeze juice from lemons for juice to be used in the jars.  Hint: I was told that this is perfect to use the juice from regular lemons as they tend to me more acidic than Meyers. You will need to have enough juice to fill the jars after they are full of the fruit.  Plan ahead with extra lemons. 
Cut the ends off of each lemon, make 2 cuts into the lemon to partially quarter the lemon

BUT

don't cut all the way through. Leave it joined at one end.
Using your fingers or a small spoon liberal coat the insides of the lemon with salt. Place on a surface until you have them all done.
Assembly:
You can do this in any order – but this is what I used:
At the bottom of each jar – place a teaspoon of salt, and drop 1-2  lemons into the jar, gently compressing them, add Cardamon,  Peppercorns, a piece of Cinnamon stick and them more salt, rotate the process by adding 1-2 more lemons. Slide in a Bay Leaf along the side or of the lemons are big,  place in between the layers (You can use up to 2 leaves).
Remember to compress the lemons so that more of the liquid releases.
After you have the jar full, you will want to pour in the extra lemon juice almost to the top of the jar.

Note: some recipes I noticed while reserching also suggested that you can use 3 parts lemon juice and 1 part cold water. My friends Mom says she uses all juice.

Cover the jar tightly. Turn over once or twice to get the salt, juice and spices moving.
The Lemons will take about a month to cure – so each week, for the first 30 days try to turn them several times to get the salt and spices to mix. After that they are good to go and will be good for up to 6 months.  They can be left at room temperature. Once opened, they can be kept in the refrigerator for up to 3-6 months depending who you ask. You can add other spices. Some recipes call for fennel, etc I am thinking that rosemary might be a good one to try next
Basically when you use them; you will be using the skin of the lemons not the pulpy flesh (I did see some recipes online that do use it but I haven't). So peal the skin back and slice or dice. Remember – they will be salty so when adding to a dish remember to compensate what other salt you are adding. Don't make this with regular Iodized salt. I used Kosher salt. Don't forget the liquid left in the jar will have lots of flavor and could be used all sorts of ways from dressings to marinades.
A few additional recipes for your own creative side:
Ways to use Preserved Lemons:
For Eating:
For Drinking:
Preserved Lemon Martini (or, as I like to call it, The Dirty Lemon) Curtesy of EatingFromTheGroundUp.com (serves 2), or for you adventurous types; try the Morocco found on http://sebbo.org/recipes/morocco.html or get creative – imagine how they could kick up a Margarita or paired with Tequila or my favorite; using some of the brine in a Bloody Mary!
Preserved Lemon Martini 
2 ounces vodka
2 ounces dry vermouth
1 ounce preserved lemon brine
2 slivers preserved lemon rind
Combine the vodka, vermouth, and lemon brine with a hefty amount of ice in a cocktail shaker (or the eternally useful mason jar). Shake, shake, shake. Put a sliver of lemon rind in the bottom of two martini glasses. Divide the vodka mixture between the two glasses.