Traditional Italian egg bread
Mom's Easter Bread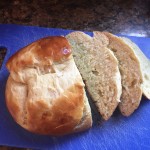 Note: This is a large batch dough and can be both messy and sticky while making. You can use a mixer or processor as well as mix and knead by hand ( just plan to get "close & personal" to your dough if you do).
Also – this uses an over-night rise for the first one – so you are looking at 8 – 10 hours of prep on this before actual baking.
12 xl eggs (room temp.)
2 1/2 cups sugar (you can add up to 3 cups – mostly to your taste)
1 tbsp sugar (this for the Yeast to proof)
Grated rind of 2 lemons and 1 orange (or two if they are small)
Juice of 2 Lemons and 2 Oranges
1/4 lb of Bakers Yeast or 6 packets of Active Dry Yeast (active live yeast, not rapid rise)
1/2 cup of Olive Oil
12 cups of flour (more or less)
1/2 stick of butter (melted)
1 cup warmed milk (118 to 115 degrees)
Parchment paper
2 -3 Sheet try pans unless you plan to do them in batches.
Big Bowl!
clean towel and blanket (yes a blanket)
Preheat the oven to 350 degrees. I noted my oven runs hot so I used 325 for the second batch and let it cook an extra 5 minutes.

Melt yeast in warm milk with the tablespoon of sugar, stir and set aside

Beat eggs w/remaining sugar till well incorporated

Add butter, yeast, lemon juice and grated lemon & orange peels mix together well.

Add the Flour

If you have a large surface area you can mix old school style and pour flour on the table, form a mound, make a hole in the center and add liquid mixture gradually as you work by hand.

or

Use a bowl or mixer and add flour 2 cups at a time to liquid mixture.

The dough will go from liquid to sticky mess so you will want to be prepared.

Around the time you hit the 10th cup of flour, you will want to start to work the dough with your hands as you add the remaining flour*.

Coat your hands from the 1/2 of Olive Oil to keep it from sticking (Don't use flour on your hands) and knead dough.

When you can shape a soft dough round that isn't so sticky and stays together – you are done.

*Depending go the egg size – you may need less or more flour so take your time.

Oil the inside of a large bowl ( those old fashioned tupperware ones are great by the way). Place the dough in the bowl. Cover and "burp" if using tupperware or cover with plastic wrap. Drape a towel over the top and then fold the bowl into a blanket and set out of a breeze,overnight or 6 -7 hours.

Unwrap and punch it down for the first time, rewrap and let rise again for 2-3 hours

After the second rise

Role each portion of dough out into a 12- 14 inch role, then either braid or circle around itself ( or any other shape you like). Place on parchment paper lined trays.

Let rise uncovered for up to 1 hour more. See the notes for more ideas and hints

Coat with a simple egg wash

Bake for 30 minutes or until a nice golden brown.

Cool on a rack and eat! Even better the best day as "French Toast" or in bread pudding.
Note:
Now the timeline we use is:
10:00 pm
make dough, wrap like a bundle (and in my Mom's case – say a prayer – yes really)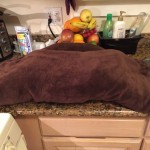 7:00 am unwrap and punch it down for the first time, rewrap and let rise again for 2-3 hours,
9:30 – 10:00 am shape into individual loaves and let rise uncovered for up to 1 hour more.
11:00 am Bake
Hints:
Shapes:
If you portion out the dough into 1/2 lb portions you can get  5- 6 loaves.
If you want to do a large braid, use about 1-1/2 lbs (1/2 per lb), But its up to you. I think 1/4 ld loaves would be nice gifts too.
You can also place a raw egg (especially pretty with colored eggs) in the center while they cook.
Topping with an egg wash and sprinkles also add some fun as would adding friend fruit to the batter.