Recently our pals over at Stoltzfus Meats sent me a new box  of meats and part of the box included a smoked ham hock. You may recall I used the Cottage Bacon from  Stoltzfus Meats  when I did my Smoked Hog Muffule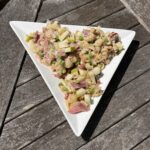 tta.
So what to do with Ham Hocks?
I don't cook with them often and when I do use them it's usually like many people do. I put them in greens, lentils or beans.I wanted to come up with a recipe that was a little different and given it was a warm spell – not a soup. After a little researching in the vintage book collection,  I came up with a variation I have to say it was pretty good.
Smoked Ham Hock Cheese Herbed Pasta
What you will need:
2 smoked pork hocks
1 large bunch of flat-leaf parsley, roughly chopped
1 cup Parmesan, grated
freshly ground black pepper
2 tbsp good olive oil
8 tbsp mascarpone ( more or less to your taste and texture)
1 package of linguine or any pasta of your choosing.
2 cup peas
Feel free to experiment – capers, other seasonal herbs,  vegetables, even garbanzo brands could be included.
Making It
Place the hocks in a large pan, cover with cold water and bring to a boil. Reduce the heat, cover and simmer for 1 hour.

 

Remove from the heat and leave until cool enough to handle.
Reserve about a cup of the stock. (you can  freeze the rest for the fall when its time to make split pea or lentil soups
Remove the ham hocks from the broth, then peel off the skin and discard along with any excess fat.

 

Pick off all the meat and roughly shred/chop.
In a medium bowl, mix 3/4 of the chopped parsley, parmesan cheese, black and red pepper flakes, olive oil, mascarpone cheese, apple/lemon mixture, 1/2 lemon zest and reserved stock. Mix well. Thin with the remaining lemon juice. Thicken with more mascarpone or grated cheese
Fold in the ham hock pieces
You want this to be a thicken "grace"texture. Remember when you mix it into the pasta it will loosen some with the heat.
Bring a large pan of water to a boil and cook the pasta according to the packet's instructions (dont overcook the pasta).

 

Drain pasta (reserve 1 cup of the pasta water), returning the past to the hot pan,  toss with the ham mixture. Add reserved pasta water if needed to loosen.

 

Garnish with the remaining parsley and lemon zest and few thin slices of apple
Serve warm.But I will say it reheat well too!
If adding other components like beans or veggies – sauté them off with pepper, garlic and olive out while the ham hocks simmer and let cool then mix into at step #6
If you aren't into a lot of cheese – I also made it with just the grated cheese and it was just as good! Made a great side dish