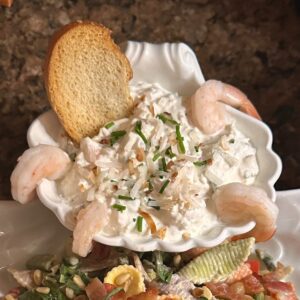 Back when I was still collaborating with @Foodtoktv and went live for them, I did a Spring Fresh Pasta & Vegetables, loosely based on Pasta Primavera. After a minor issue with boiling the pasta ( don't ask) it finally all came together to rave reviews.
I paired it  with this  Toasted Coconut Shrimp Dip from the same period in the 70's. Since there reaction previously to my vintage Clam Dip Crostini was such a huge hit. This version is adapted from Mrs Larry Simon's version shared in the "WHAT'S COOKIN'? In Cleveland Ohio"  circa 1973
Toasted Coconut Shrimp Dip
Ingredients
1 cup sour cream
1 tsp. curry powder
2 green onions, finely chopped
1/2 cup shredded coconut, toasted (Chopping optional)
1/4 1b. cooked shrimp, chopped
1/4 tsp. salt
1/8 tsp red pepper flakes
Dash lemon juice
Black Pepper to taste

 
Preparation
Mix all ingredients and chill several hours.
Serve with chips or crackers.
Makes about 1 to 1 1/2 cups.