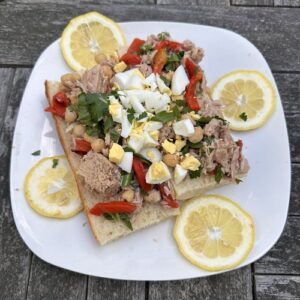 This was a simple lunch my Dad used to make me on Saturdays when I would go into work with him At the New Haven Animal Shelter. He was the Director at the local Animal Shelter and I would spend weekends helping out. My Dad's Saturday Shelter Tuna Salad is an Italian/Mediterranean inspired salad, based on the tuna packed in olive oil (instead of water), herbs and the sharpness of red wine vinegar instead of the traditional mayonnaise based tuna salad. This goes great on warm crusty breads or topped over greens even some warm from the oven Walnut, Bacon & Cheese Muffins
Dad's Saturday Shelter Tuna Salad
Ingredients
3 Cans Tuna in olive oil, drain (reserve the oil is optional)

3 green onions, sliced

1 tablespoon chopped fresh Parsley

1/4-1/2 tsp Dried Italian seasoning

Fresh or dried herbs of your choice

Salt

Pepper

Crushed Red Pepper

1/4-1/2 cup Red wine vinegar

1 – 12 oz can Garbanzo Beans drained

1/2 cup diced Roasted Red Peppers (drained if jarred)

1 lemon

Washed and dried Arugula

1-2 hard boiled egg, peeled and diced

Hard crust style bread; italian, sourdough or rustic loaf
Optional: Fresh sliced fennel, sliced green olives, capers, chopped celery
Make It
Open and strain the tuna into a bowl. Lightly flake with a fork.

Dice the white and green parts of the green onions and sprinkle on top of the tuna (reserve 1/2 tsp for garnish)

Open, strain and rinse in cool water the garbanzo beans and add to the bowl (cannellini beans also work)

Add the diced (drained) red pepper, parsley, fresh/dried herbs of your choice, black pepper, salt and red pepper flakes.

Add the red wine vinegar

Slice the lemon in half. Make thin slices from 1/2 the lemon and juice the other 1/2 of lemon and add into the salad.

Gently mix the salad to incorporate all the ingredients.
** Chill if not being used right away This can be made up to several hours or overnight up to this step. 
When ready to serve
Taste for salt.

If you like it less sharp, add a drizzle of good olive oil, more sharp? More lemon juice

Make a bed of arugula on a plate

Add a two slices of bread on the greens, drizzle the bread with Olive Oil

Scoop the salad on bread

Garnish with fresh parsley, reserved green onions and diced hard boiled eggs (optional; capers or dice up some of my Sherry's Garden Pickles) and lay lemon slices along side.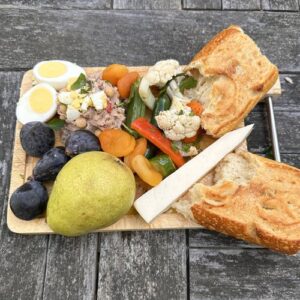 Alternatives way to serve this:
Serve on its own or on greens, with a hunk of crusty rustic bread on the side, a chunk of asiago, ricotta insalda or pecorino romano cheese, some dried or fresh fruits figs, pears, apricots