This dessert is the perfect example of divine simplicity.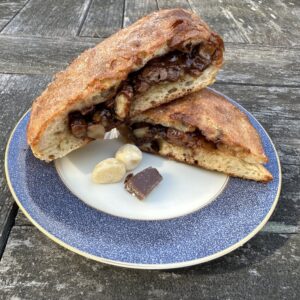 You can use a either homemade pizza dough, or a store-bought pizza dough as your base. There are multiple recipe versions online, including the original version I saw for "Pain de Quatre Heures" from Jacques Pepin (He has it in his Heart and Soul Cookbook) where he used hazelnuts. As somebody allergic to hazelnuts and cashews, it seemed that a perfect solution for me, was to swap them out for one of my favorite nuts; macadamia.
Since I make savory Calzones and Stromboli's all the time it wasn't a huge leap for me to do a sweet version. So no matter what you call it; a sweet calzone or a sweet sandwich, either way it's going to be a sweet ending!