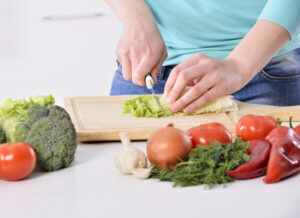 Most people spend a significant amount of time in the kitchen. It's the designated food preparation space and often where people gather to eat and socialize. After all, nothing brings people together like good food. Of course, in the process of preparing that food, you may run into a few hazardous situations. Heat and sharp objects are ubiquitous in kitchens. So how do you avoid injuries and accidents?
Prevent Fires
Kitchen fires can be uniquely dangerous. Far too many people don't know how to address a kitchen fire and make the wrong decision, resulting in disastrous consequences. Of course, the best thing to do is to prevent them from happening in the first place. 
Never leave your stove unattended while you're cooking. Keep your equipment and work area clean and free of combustible materials. Choose your clothes wisely–sleeves that are fitted, tightly rolled, or short are less likely to catch fire. Keep a fire extinguisher nearby and make sure you know how to use it as well.
Practice Knife Safety
Knives are some of your most essential kitchen tools. The very thing that makes them so useful, however, is also what makes them dangerous–their sharp edge. Avoid injuring yourself or someone else by practicing knife safety. 
Wear a cut-resistant glove when using a knife, especially if you don't have good knife skills yet. Cut-resistance gloves can prevent a serious accident with a knife while cutting food. Verbalize that you're moving with a knife when doing so. Never leave a sharp knife in the sink. Always watch what you're doing when handling a kitchen knife.
Take Extra Care with Hot Things
Fire isn't the only hot thing in the kitchen. Boiling liquids, hot food, roasting ovens, and more can all cause serious burns. Reduce the risk of spills by keeping pot handles turned toward the back of the stove. Similarly, stirring implements should be placed out of reach when you're not actively using them. Use quality oven mitts that are in good condition when handling hot pots and pans, and make sure you have a good grip before moving things.
A lot of what goes into avoiding accidents and injuries in the kitchen can boil down to slowing down and being careful, yet deliberate. It's tempting to rush around to get as much done as quickly as possible, but that's when mistakes get made and people get hurt. Ultimately, that slows everything down. Make "less haste, more speed" your mantra when working in the kitchen.
Did you enjoy reading this article? Here's more to read. Who is the Paleo Diet Best For?