After a rough week – I needed to "stress cook" with Mexican themed dishes
To balance the very healthy dinner the other might, and inspired by the book that we've been reading for Book Club this weekend; The Uncomfortable Dead, with its Mexican theme,  I decided to look into some older recipes and given I needed the distractions – went out to try these Mexican themed recipes.
Mexican Wedding cake/cookies
First I tried my hand at a batch of Mexican Wedding cake/cookies (aka Russian Teacakes or Snowballs); it would seem that most cultures have a version of this butter, sugar, flour & nut recipe and everyone has an opinion on what makes them authentic and the "best". So while mine didn't come out the way I planned with a cute little crescent or ball shape, and they looked more like "pillows" than I intended they still ended up tasty.  I think I went short on the amount of flour I was supposed to add so they spread during the bake – but from the feedback, I got – lots of folks said to keep it that way. This cookie has always been a favorite one of mine, that one of my Aunts would often make, but I tended not to eat them when out in public, because some versions (especially the Italian one) have hazelnuts. Which is one of the few foods I am strongly allergic too. But in the spirit of Book Club, I thought, "let's go ahead and I'll make them" and to make them my own, I did a rough toast and grind of not one nut, but three;  toasted pistachios, almonds, and pecans! Now the recipe is super old school, including the mixing, is all by hand, and I mean "hand" no mixers or spoons. So you can imagine the mess at one point.
Pickled Carrots and Jalapeños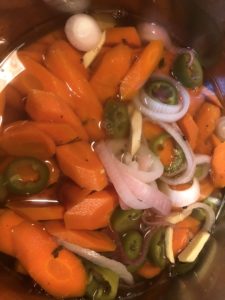 Back in the day, when I first moved to San Francisco, I came across a tucked away Taqueria in the Mission that the owner used to make buckets of pickled carrots and jalapeños. They weren't something I had tried before moving here. So while she is now long past, I always try to look for that perfect heat and crunch. So "hot off the presses" from the fermentation class I took in April, I decided to also whip up some of my own pickled carrots & jalapeños for Book Club.
The primary dish I had planned to bring to Book Club I started the prep on Friday night so that a certain someone could sleep in and not hear me banging around the kitchen. This dish is actually one from Pati Jinich's Cherry tomato and Red Wine jam on goat cheese covered toast. She is the lively and creative host of Pati's Mexican Table which I have been tuning into more and more
When I first read this recipe, I had an "hmm so it's like a warm Mexican style bruschetta" moment, but like the cookie, most cultures have some kind of combination of tomatoes, cheese, and bread as a starter. Still, the recipe looked good, and I thought I'd give it a try. I have to say I'm glad I did. It was a super easy recipe to make, the outcome was very very tasty.
Note to self: It holds up well so would be perfect for entertaining (think the annual holiday open house) by doing parts of the prep the day before, the do the simmer in the morning and spoon it out just before serving.
The only thing I felt I needed to do differently from the recipe, was adding a little squirt of lime into the tomatoes before spooning out. I think next time I could use a little extra zing with some diced jalapeño too. But overall a definite win.
Also managed a few treats for the guys!
If you follow this blog you know that over the holiday I did some fun bookmarks and "Keepers" from old jewleryWell I figured it would be fun to create some old school bookmarks to surprise the Book Club with as a companion theme to the book "The Uncomfortable Dead".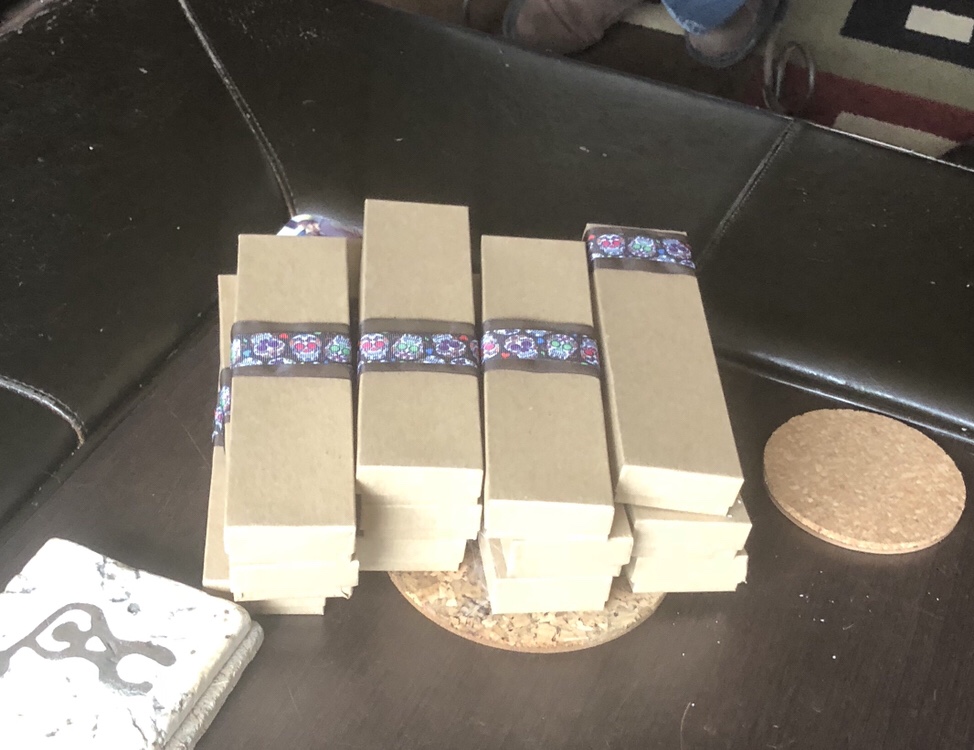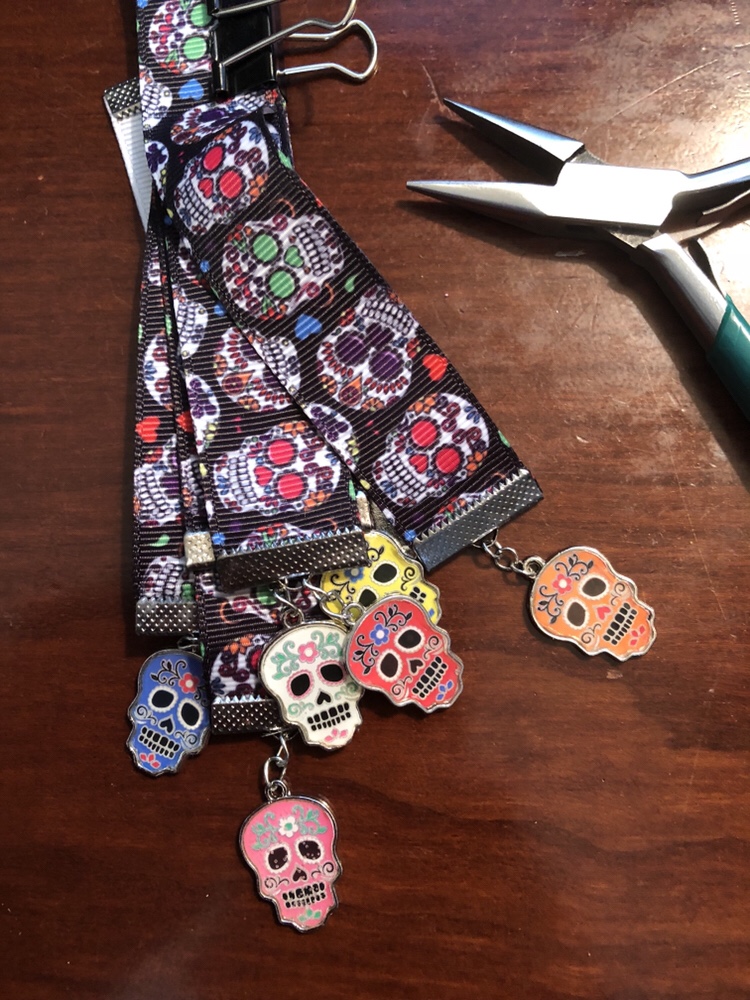 SaveSave