Fermentation you say?
Yup. I got a rare chance to take a class on it. This one was on Fermentation, but first.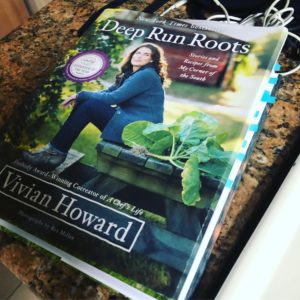 OK yes. I am "one of those" that when I get a new cookbook; I read it cover to cover. So there's nothing better than getting a cookbook that actually has some storytelling in it. I finally got my copy of DeepRunRoots from A Chefs Life's Chef and Author, Vivan Howard. All I have to say is it's a good thing I had a full pack of post-it tabs! Oh and by the way- the cookbook is huge and very well done and worth every penny.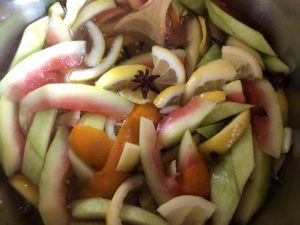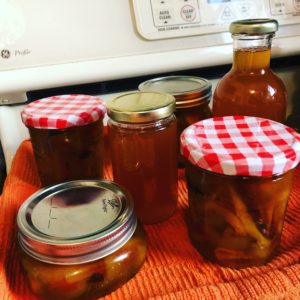 So, of course, that meant a morning was spent first finishing up another batch of DeepRunRoots version of watermelon rind pickles. My first batch did well, (which I Facebooked and Instagrammed but didn't write here about but you can find via the hashtag #BiteTheRoad) but having used those bowling ball sized watermelons which will only make 4-5 jars. Those went pretty fast, and I also wanted some of that leftover liquid to simmer down further into a syrup for other uses this weekend.
Next on my "To Do's" before I could get myself ready for Fermentation class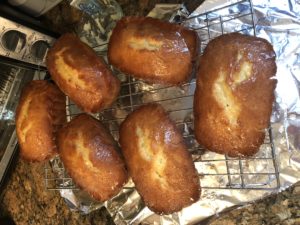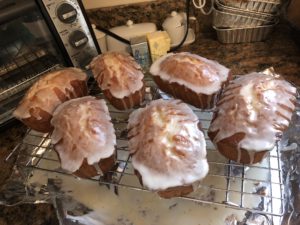 Was to knock out a few quick "gestures" for a few pals recovering from surgery; my fav lemon bundt cake converted to mini loaves drying. Many of you who read this, know I am a big fan of making a heartfelt and genuine gesture or appreciations. Be it a way of saying "thank you" or recognizing someone who went the extra mile or simply to cheer up a sick friend.
In this case, in addition to having someone home laid up post surgery, I have two other friends who also went under the knife (or laser as the case may be" and wanted to prepare a little something to send over. To be precise –  my philosophy is either drop it off and go or mail it. When making a gesture like this, it isn't supposed to be a way for you to take up the persons time with social stuff. It's your making the effort to drop something off and not be in the person's way by making them entertain you.
Now I keep a few recipes for precisely this. That meant a trip to the "tree" to get some lemons and I adapted my favorite lemon bundt cake into mini loaves. Now, this isn't my recipe – it's one of those from the folks at King Authur flour called Lemon Bliss Cake. They do it so well I don't really screw with it. The batch recipe makes a huge bundt, two loaves or 4 mini's. (Check out the recipe's comments as many shared include some great tips). One lucky person is even getting a jar of the pickles.
When all that was done – it was time for fermentation!
Why Fermentation?
Well, why not? I grew up seeing my Mom occassionally can and jar fruits, pickled eggplant and such but never really learned how. Last year I started to explore more about canning and pickling and decided why not learn more. A pal who has taken classes from the UC Master Food Preserver Program mentioned they were doing one on fermentation. What I liked most was it was hands-on and you got to take stuff home and all materials and supplies were provided, you just had to bring an apron. You can read more and see whats coming up here or the more San Francisco/San Mateo centric list here.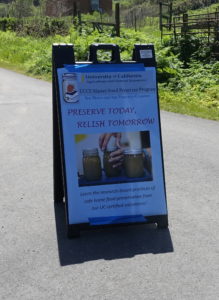 So bright and early Saturday morning we drove down to the Elkus Ranch Environmental Education Center for the class.
I have to say it was one of the best mornings I have had in a while.  With some great volunteers and trainers from the Master Foor Preserver program and a small group of learners, we got down to business with making a huge batch of Kimchi, a jar of preserved Lemons (which I had already tried and written about last year) and a starter kit for making home-brewed Kombucha.
Oh yeah  – if you are so inclined, the next Master Food Preserver Open House/Volunteer Recruitment is May 8th. I may be leaning towards doing the Master Food Preservers Introduction to Canning next myself. They can also be found on facebook: MFP Facebook