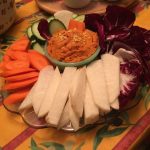 This dish can be made vegan or not; just depends on you time and needs.  I have made several variations on this recently for a small rainy night dinner in 2017 and in 2016  Carrot Hummus at Easter and posted about it here. I found the recipe initially on the Joanne Weir website for CreateTV and adapted it some for my taste. 
Carrot "Hummus" with raw veggies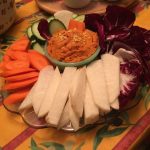 Super easy appetizer, budget friendly dish that can stand alone or as a filling for sandwiches, flatbreads. Depending on your equipment and how you process it will determine the texture. A food processor will you you a smooth but course spread while a some of the newer juicer machines high powered blenders like the Ninja (which is what I used) will make it more smooth. Purely to taste. The original form of this recipe of from Joanne Weirs CreateTV show.
2 lbs Carrots (Use the whole larger ones)
4 cloves Garlic (Separated with or without peel)
2-3 inch Raw Ginger pealed (to taste or use dried ginger power apr 1 teaspoons to start)
1 tbsp Honey
2 tbsp Olive Oil
1 tsp toasted and ground Cardamom
1 tsp Cumin
1 tsp light Brown Sugar (Optional, you can use Agave or other fruit juices for sweetness)
1 tbsp Tahini (sesame paste) (In a pinch peanut butter or almond butter will work too I bet), well stirred. You can add more to taste.)
1/4 tsp Crushed Red Pepper (Optional)
1-2 Lemons (use the peal of one lemon for the mix and the juice if needed to loosen the dip)
Salt & Pepper to taste
2-4 tbsp water
Heat up the oven to 375°F.

Toast the cardoon and cumin in a dry pan and grind to powder form. If using powered still toast for a few seconds. You can also toss in sesame seeds to roast here as well (optional)

Cut and place the carrots, pealed ginger and garlic cloves on a foiled covered sheet pan Sprinkle salt & pepper, and toasted and ground cardoon and cumin, oil and honey. Toss together. (I wanted a bit of a char on them so didn't cover them, but it you wrap them up and seal the edges so the steam doesn't escape. you will get a more mellow taste)

Roast in the oven on middle or lower rack until tender, 20 minutes. Stir and continue to roast for 20 minutes.they should be just tender not mushy.

Remove from the oven, gently scrap the bottom of the pan and move the vegetables around so they loosen and cool completely.

Pour the entire pan of carrots, ginger, garlic, seasonings and oil into to a food processor with the remaining ingredients (except for the water and lemon juice).

Process until rough/smooth spread, scraping down the sides of the bow

Add the peal of a cleaned lemon and toss in the mixture

Add water or lemon juice if needed to make a thick dip the consistency of hummus.

Taste and adjust for more seasoning with salt, pepper, cumin, sesame oil and lemon juice to taste. This is also when you can add more honey, spices etc. It will be ready good to eat then, or store at room temp for using with in an hour otherwise keep cold. Take out about 20 min before serving. Mix and place in a bowl.

Serve with an assortment of chips, sliced veggies etc
Pretty forgiving recipe over all..
This will keep in the refrigerator for a few days but I take it out about 20 min before serving.
About the Oil:  I am thinking good quality using flavored oils like Lemon, Blood Orange or Chili might rock this dish too
Future Notes: for the next time I plan to try it with grilled carrots, garlic and ginger then puree.