Look what happens when you adapt a watermelon ginger soup, making it both vegan and appeal to those carnivorous friendly folks – I did a Mashup of two recipes calling it Cold Watermelon "Chili".
In the summer issue of Naked Food Magazine (they also have a great facebook page: I found a great recipe for Watermelon Ginger Soup that had been developed by Mary McDougall
As some of you know, well over 18 years ago one of my favorite restaurants for birthday meals was Scala's Bistro – chiefly because of the Watermelon salad created by the chef at the time – which matched my love of combined sweet savory spicy in one dish. It was this dish that came to mine and how it might be a refreshing mash up with the NF soup.
I had my chance in the fall, when we were visiting friends and I was presented with the role of making Friday night dinner which included a vegan in the mix. Being me – I wanted a dish that would make everyone happy and want more without a lot of fuss. What I ended up with was this a mash-up of the watermelon ginger soup and my recollection of the watermelon salad and came up with my version of Cold Watermelon "Chili."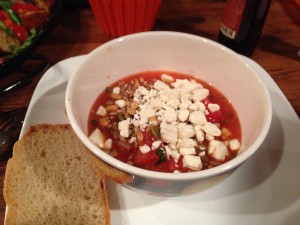 In McDoughall's original watermelon ginger soup recipe from Naked Kitchen• the ingredients included:
1/2 cup mild onion chopped finely
2 cloves of garlic crushed
1 tablespoon grated fresh ginger
2 tablespoons water
8 cups seeded and cubed watermelon
2 teaspoons fresh basil chopped (which was optional)
2 teaspoons of fresh cilantro finely chopped (also optional)
Freshly ground black pepper to taste
My variation on the soup recipe include the addition of:
½ -1 teaspoon of ground of red pepper flakes (optional),
2 teaspoons of local honey,
An additional 8 to 10 cups of cubed watermelon,
1 teaspoons (and to taste) citrus flavored oil
2 teaspoons honey
For the "chili like" toppings for your guests
1 cup crumbled feta cheese,
½ cup small diced scallions,
1 cup of roasted sunflower seeds, pepito's or pumpkin seeds
What I realized in my version was someway to appeal in a subtle manner to both sweet and savory tastes; so that when you finish the meal, you finish on the sweet side and a minute later you get a bit of heat, making you crave more.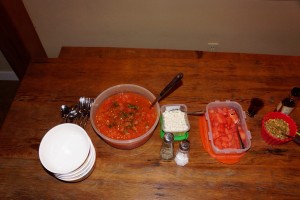 I suggest if you are buying the watermelon off-season you may have to add either coconut or regular sugar or you can increase the honey or honey substitute.
To Make:
In a large saucepan, that's been heating on medium heat, add a teaspoon of the citrus infused oil, all of the garlic, the onion, and ginger. Stir and then add 1 teaspoon of the red pepper flakes.
Slowly stir around until the onions become translucent the garlic gives off a rich aroma
Note: You want to stop before any of ginger, onion or garlic browns. The idea is cook them till soft and flavorful but not overcooked or roasted.
This will generally take 3 to 5 minutes depending on the type of pan and the temperature you using and the quantity. Keep in mind – all of my amounts are approximate and in my opinion subjected to your personal tastes. The version that I made was doubled.
While the onion and garlic mixture slowly cooks, you want to use the first 8 cups of watermelon and in small batches using your food processor, blend it to a purée.
Note: Reserve a least 1/2 cup of the watermelon, from the first set of 8 cups since I found that after I puréed it all and cooked it some, I still wanted a little bit of texture in the initial warm soup. So holding back about half a cup and then adding to the pan as it cooks allows for it break down naturally.
To the pan add the 2 tablespoons of water, ½ the honey and pour in the puréed watermelon into the hot onion, garlic and ginger mixture, stir gently.
Increase the heat to medium-high and bring the soup up to a boil, reduce the heat to being it back down to a simmer.
Simmer for 3 to 4 minutes until it's become slightly thickened, at this point add the remaining ½ cup of watermelon cubes (you should still have 8 cups already cubed but that's for part 2) and cooking for another minute.
Note: Taste it – do you want more garlic, honey or ginger – this is where it is good to add it. Since it will be served cold – some of the flavor will be muted so you need to keep that in mind when it's heating.

Once the cubes are warm, remove the pan from the heat and pour into a covered container. Let it cool on the counter, then cover and refrigerate overnight.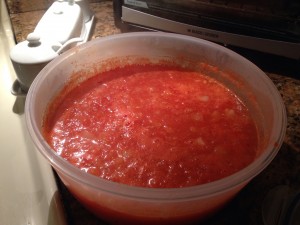 About herbs; I think you could go either way and add some while heating – but then I suggest you use dried as fresh may go black from the heat. Otherwise its best to add it to the cold bowl of soup prior to serving,
I added a little bit of dried cilantro (maybe a ½ teaspoon) just before I took it off the heat but I think it would taste much better if you just add the fresh herbs the next day or at the time of use.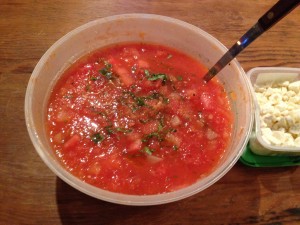 On the day I serve the soup, I removed it from the refrigerator and let it sit about 30 – 40 minutes. Add the herbs, more of the of red pepper flakes (optional) to taste, check for salt-and-pepper.
Note: whatever fresh herb you use – you can get creative, since I use a citrus infused olive oil- next time I might add fresh thyme or lemon basil.
Pour in 7 cups of the cubed watermelon, gently stir several times and check for consistency. Since I wanted this to resemble a chilly, I wanted a thickness with a chunkiness, and at this point I could either on hand mash the remaining watermelon to give me a little more thickness or I could purée it to give me more thinness. It is totally to taste.
Stir and check for ground pepper and salt and you're ready to serve.
To serve, I took a chilled bowl, ladled the chili in. Garnished with a ring of the citrus oil and herbs. Serves it along side small dishes that I filled with the feta, the diced scallion, roasted sunflower and pumpkin seeds. I also had a small dish of hot pe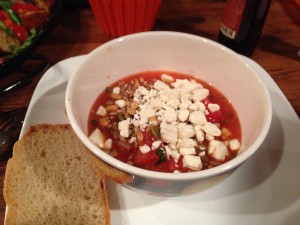 pper flakes as well as more of the citrus and encourage people garnish at will.
At first people were somewhat dubious and I think were a little scared, but one they started, and played with different combinations – they all dug in for more than one bowl each. Something about the cool feeling of the sweet watermelon and the under bite of the ginger and red peppers flakes drives you back for more. Other variations I could see working would be if you added pealed and cubed cucumber, apple or pears.