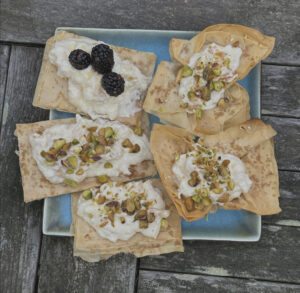 Ricotta Dip Topping is the perfect topping for a Date Nut Bread, cake or grilled peaches  

Ingredients
8 ounces cream cheese softened to room temperature

8 ounces (full or part-skim ) ricotta strained at room temperature

2 tablespoons honey

1/2 teaspoon of a sweet peach or orange jam

Pinch kosher salt

1/2 cup dried apricot halves finely diced

1/4 cup shelled roasted pistachios, chopped

Base of for the topping: Crackers, Pyhllo sheets, Pound cake, grilled fruit etc
Preparations
In a medium mixing bowl, blend together the cream cheese, ricotta, honey, jam and salt until smooth.

Taste and add additional salt or honey as desired.

Gently stir in the apricots.

Transfer to a serving dish of using as a dip and

 

sprinkle with pistachios and drizzle with remaining 1 tablespoon honey.

or Smooth on to your prepared Phyllo bases or my favorote way spread on Date-Nut Breads

Serve immediately or refrigerate until ready to serve.
Notes
As a topping the options are endless. This is great on grilled peaches and other fruits as much as a topping for toast, pound cakes or as an addition to a Cheese and fruit course