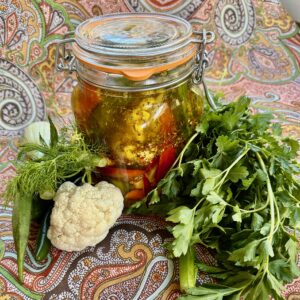 I was working with a new version of this classic pickled salad I affectionately call "Sherry's Special Giardiniera Salad" in honor of Sherry Skinner's birthday and decided to rework it with some different vegetables, including a southern, classic okra.
The Giardiniera (pronounced jar-din-AIR-a) salad is a common side dish that Italians and Italian Americans often have sitting ready for snacking and as a side, much like it's American cousin, the pickle. It can often be found in the stores, in the jarred vegetable section, but it's such an easy dish to make and it's perfect when you have an abundance of vegetables that do well with the bite of herbs, spices and vinegar.
This version is not heat processes so it's only good up to a week, if it lasts that long. (There are many recipe that will allow you to heat process these to keep them longer and make them shelf stable.)
Ingredients
Part 1 -the Veg
4 to 8 Serrano chiles, seeds removed and thinly sliced or leave hole for less zing (Quick tip- use a fat straw to remove the seeds and ribs easily)

1 Red  Bell Peppers, cut into 1/2-inch pieces

2 Celery ribs, cut into 1/2-inch pieces

2 Carrots, cut into 1/2-inch pieces

1/2- 1 small head Cauliflower, cut into small florets

2 cloves Garlic, minced

1 Fennel bulb ( medium)

1/2 lb Okra

1/2 Onion Red or sweet, sliced thin

1/3 cup kosher salt
Part 2 – Seasoning Mix
1 tablespoon dried Oregano

1 teaspoon crushed Red Pepper flakes

1/2 teaspoon Celery seeds

6-8 whole black Peppercorns

1 teaspoon Mustard seeds

1 teaspoon Fennel Seed
Part 3 – Marinade
1-2 Bay Leaves

1 cup white Vinegar

1 cup Olive Oil

Notes:

If your celery or fennel has leaves on them, reserve the leaves in a damp paper towel in an open plastic zip bag over night and include in the part 2 step.

Optional add ins include sliced green or black olives, hot cherry peppers, small green tomatoes, whole ginger.
Directions:
Step 1
Clean, peel and chop your vegetable to your preference.

Combine the chiles, red peppers, onion, celery, carrots, okra, fennel, cucumbers and cauliflower in a large ceramic or glass bowl.

Add the salt gently mix well into vegetable mixture.

Add enough water to cover the vegetables.

Cover the bowl and refrigerate for about 12 hours or overnight.
Part 2
Drain and rinse the vegetables under cold running water to remove the salt. Set aside to drain in a strainer.

In a small bowl, add the remaining ingredients and blend (garlic, oregano, red pepper flakes, assorted seeds, peppercorns, etc.).

Add some of the seasoning to the bottom of a clean dry jar

Add the drained vegetables being careful not to break up the vegetables (Note: you can also do this in an large bowl and using your hands – use gloves if you hands are sensitive to peppers and garlic and then add to the jar)

Pour the vinegar and oil in.

Tuck in 1 -2 Bay leaves, leftover celery leaves and any fennel fronds.

Add additional vinegar to cover the mixture.

Refrigerate for 2 to 3 days before serving.

Stir the mixture or gently rotate the jar once or twice during that time.
When it's ready to be eaten, remove the jar from the refrigerator about 30 mins prior. Plate and serve as a snack plate or topping on a salad or grilled meats.
Note: The same mixture could be diced up, with olives, drained and added to cold cut sandwiches, similar to the classic muffaletta  italian sandwich invented in New Orleans with cured meats (ham and salami), provolone cheese, olive dressing and the best local breads.