Time slows down here in Provincetown, so a recap of week one is in order to fill in some gaps. Our vacation timeline does seem to get away from us; let's face it, it can be hard work when the agenda looks like this for two weeks: writing, reading, journaling, eating, biking, swimming, walking, napping shows, ice cream
So here is a quick recap of our week so far
On Wednesday with bikes rented and tested out the day before, and the weather looking to have the right balance of sun and wind – a bike ride was on the agenda. But first, was my morning visit to Joe's Cafe. This is my routine way to start the day and it is rare I am not found there by 7:00 am. In this case I have been using the time to sort through some of the data sets for some journals I am working on.
Once everyone was up, we decided that today would be a good day to introduce Josh and Brent to Chach (73 Shank Painter Rd, Provincetown, MA 02657). Considered by many to be one of the best of the breakfasts around, this little, old school spot never disappoints. I generally recommend trying the jalapeños corn bread and checking out what's on the specials. While the standard menu covers options for everyone – the specials often add that little something extra.
After that meal – Paul and Brent opted to do the 8 mile bike ride while Josh and I hung back at the condo planning the day and then grabbed our bikes to make a run to Stop & Shop for some additional supplies.
Once everyone was back we did a casual lunch dockside then relaxed the rest of the afternoon.
That evening we got to meet up with some local San Francsico pals, Tim, Doug and Adam for dinner with them and friends then took a nice walk back to the condo.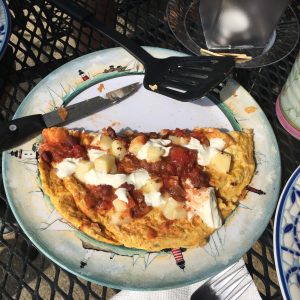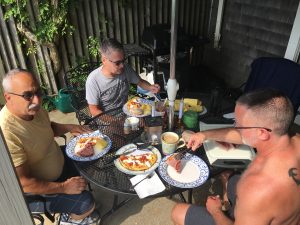 Come Thursday, after checking the weather, I was up early at Joes Cafe again to try to tackle my daily data set when the boys came up to meet me and Paul slept in. But we opted to eat in – so it was a Salsa Frittata dockside at the cove. I enjoy the challenge of cooking like this, adapting and improvising to see what develops.
Later that day, Brent suggested a walk through town and a visit the PAAM  (Provincetown Art Association Museum to check out the new JFK exhibit. We didn't shop much but I did manage to find a new bottled iced tea called Nani's Ices Tea and some cool beer based jams to take home. Once back at the condo, we did a lunch raid on the refrigerator and naps as the afternoon came to a close.
By dinner, we were hungry but not so much wanting to do lines, so it wasn't a hard sell to convince everyone to go back to Local 186 and a walk for ice cream after. For me it was the perfect night for the cheese plate and a old school wedge salad.
Friday was warm but not as sunny as in past days, but we were not to be put out. After the guys and I did our morning Joes, we went back to relax and shower.  Our friend Lisa, who is an old friend of Pauls made the drive down to spend the day with us. Sometimes the best days are those unstructured.  Since the drive down would end up with traffic for her, we planned to make burgers on the grill (Josh got volunteered to man the grill). Lisa covered the cookies and popcorn for a sweet treat after. We managed to keep her here most of the day before she was ready to tackle the drive back. Having been at the condo most of the day, after naps and some window shopping, we regrouped and did a casual walk down to the Breakwater over at the Provincetown Inn and the small parklet memorial known as Pilgrims Landing. 

After walking back we decided to try out the Mayflower, a resturant I had not eaten in for years as it traditionally isn't high on my "eats list".  While the place is busy and bustling – it remains pretty average in herms of food. Portions were ok, quality is basic. I don't think its outstanding; the clams wth belly's were a nice size, but overcooked a bit and not especially flavored. Brent went italian (don't ask me why??) and said his was ok for comfort food, meatballs were good but not enough sauce.  Josh said his Fish & Chips wasn't great. didn't have a homemade taste, in fact he wondered if it was remade and frozen before cooking. Paul's Friend Chicken dinner was dry and uninspiring as well. I guess over all  – it's a great place for those that like basic flavors and the unadventurous. I seem to recall this was popular with the kids when I was young for that reason. But I will say the waiter that night was one of the more attentive once we had so far.
To be continued ….
SaveSave
SaveSave
SaveSave