Roasted Broccolini with Peanut Sauce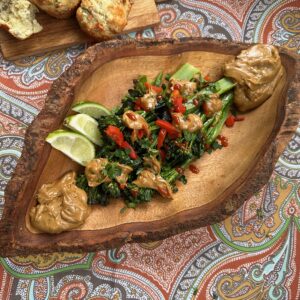 One cold and rainy day on the @Foodtoktv channel: "Rainy Day Comfort Lunch" Live, I knew I needed something spicy and with a vegetable – so I went to a dish I made back in November, Roasted Broccolini with Peanut Sauce. This dish is inspired by Molly Yeh's version. Along with it, I made my Bacon, Green onion, Cheddar and Walnut Muffins and Muscles, Potatoes and Bacon is perfect.
Ingredients
2 bunches broccolini

2 tablespoons bacon fat ( or you can use olive oil)

3 tablespoons peanut butter

3 tablespoons soy sauce

2 tablespoons honey

1 tablespoon sesame oil

2 cloves garlic, minced (optional)

Pinch crushed red pepper

2 tablespoons crushed peanuts

¼ cup chopped roasted red pepper (drained)

Sriracha, for serving

1/4 cup fresh cilantro, roughly chopped

Lime wedges, for serving
 Directions:
Preheat the oven to 400 degrees F (or electric skillet to 250 degrees).

For the oven:

Lay out the broccolini on a baking sheet and drizzle with the olive oil.

For the Electric Skillet

Add the bacon fat or olive oil. Add the broccolini to a cold skillet

heat to 250 and cover.

Roast until tender and beginning to brown, about 15 – 20 minutes. Rotate as needed

Meanwhile, add peanut butter, soy sauce, honey, sesame oil, garlic and crushed red pepper to a small bowl and whisk to combine. Add lime juice and lime zest to thin.

Transfer the broccolini to a serving platter and drizzle with the sauce.

Top with the roasted red pepper, crushed peanuts, sriracha and cilantro.

Add an extra drizzle of sesame oil

Serve with lime wedges.
This is one of the dishes  I made previously on @foodtoktv live. You can see that live on the @Foodtoktv Youtube channel
Follow me on Tiktok under @KitchenBearSF (in addition to my original profile Frank_Mentorsf) as work up to the 1k needed followers to start going live cooking again