Bacon, Onion, Cheese and Walnut Muffins
There is something about savory muffins that I love.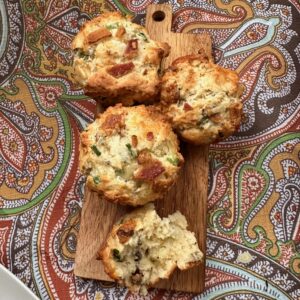 These Bacon, Onion, Cheese, and Walnut Muffins are perfect for dipping in soups or gravy, or smeared with butter or honey I did on my @Foodtoktv's "Rainy Day Comfort Lunch" live .
This combination is a old favorite, I often see it in scones. But was excited to try in a muffin version, from this vintage recipe out of the  Best of the Best from New England: Selected Recipes from the Favorite Cookbooks of Rhode Island, Connecticut, Massachusetts, Vermont, New Hampshire. Take advantage of its basic recipe and get creative to make it your own.
Ingridients
1¾ cups flour

⅓ cup corn oil ( or bacon fat melted or combined)

¼ cup sugar

1 cup of green onion, coarsely chopped (aprx 8-10)

2 teaspoons baking powder

½ cup shredded Cheddar cheese

1 beaten egg

¾ cup milk

½ cup chopped walnuts

½ cup chopped bacon

1/4 tsp Salt (optional)

Optional extras; if you want to make these more robust, add 1/4 tsp of garlic powder, and/or Everything But The Bagel seasoning or your favorite dried herbs. Start with 1/4 tsp and add to your tastes. You can also consider switching out the cheddar for pepper jack.
Directions
Preheat oven to 400°.

In a large mixing bowl stir together the flour, sugar, (salt and seasonings, if using) and baking powder. Make a well in the center.

Combine egg, milk, and oil(s).

Add egg mixture all at once to flour mixture; stir just until moistened.

Fold in onions, cheese, (bacon if using) and walnuts until just combined.

Grease or line muffin cups and fill approximately ⅔ full.

Bake at 400° for 20-25 minutes or until golden.
Makes 12 muffins.
Adapted from:
Best of the Best from New England: Selected Recipes from the Favorite Cookbooks of Rhode Island, Connecticut, Massachusetts, Vermont, New Hampshire, Plastic Comb – August 1, 1994
This is one of the dishes  I made previously on @foodtoktv live. You can see that live on the @Foodtoktv Youtube channel
Follow me on Tiktok under @KitchenBearSF (in addition to my original profile Frank_Mentorsf) as work up to the 1k needed followers to start going live cooking again