Some of my friends and I, when we get together tend to aim towards a few favorite restaurants – but this week we went to a new place. Broadway Prime had been one on my list for a while to try as I hav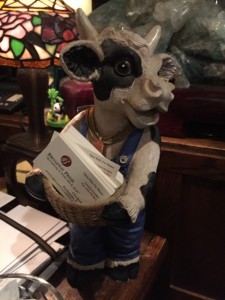 e been a huge fan of House of Prime Rib in San Francisco – so when one of us decided to pick Prime as the goto for a group birthday celebration, I was excited.
An easy drive south of San Francisco, located in a cute village like setting – it was easy to both find and park. With more than half of the group arrived -they seated us pretty fast up on the second level. (we weren't happy they they had broken out group up into two tables which wasn't what the host had asked for – but the only response provided was that we would have had to wait until the the other party ended) – not the nicest customer service (but I wasn't the host so I didn't say anything).
Now here is where the evening started to take a turn. With another large group up there and several smaller tables of 4, it looked like only one server was assigned. So it was well over 20 min before our drink orders were taken, then at least another 15 min for the food order. Luckily we were chatted and catching up and only a few side comments surfaced as to "gosh it was taking a while to get service". Once the orders were placed, the meal came out pretty well timed after the salad course.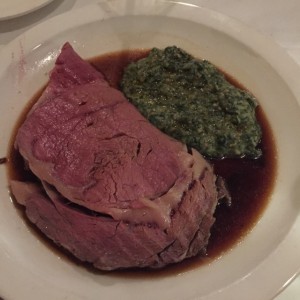 Ok so- the Strengths! The meats was great. At our table we had several different cuts, including one end cut, and everyone agr
eed they were moist, tender and had good flavor. The Baked potatoes were nicely steamy and melty good – always a treat when getting ready to toss some calories away.
The Opportunities: Not all the plates arrived with hot food. Several of the meats were barely warm (including mine and I had the end cut) so that was a disappointment. The sides were on the bland side – both the creamed spinach and corn were lacking any "wow". The spinach actually was almost pasty and lacked much in the way of seasoning at all. (maybe some nutmeg would have helped?) even salt and pepper at the table didn't do much and again they weren't particularly hot either.
We figured that they may have been hit with a rush, understaffed, or maybe the kitchen got slammed – but even the pop-overs which were good didn't get to the table until well after we had started eating. I couldn't see any bus-persons assisting and it felt as it we had one server to divide between the two large groups.
Overall – I would try the resturant again with a smaller group or a few couples when in the area. But not sure I would make it a destination again as a "must go to".