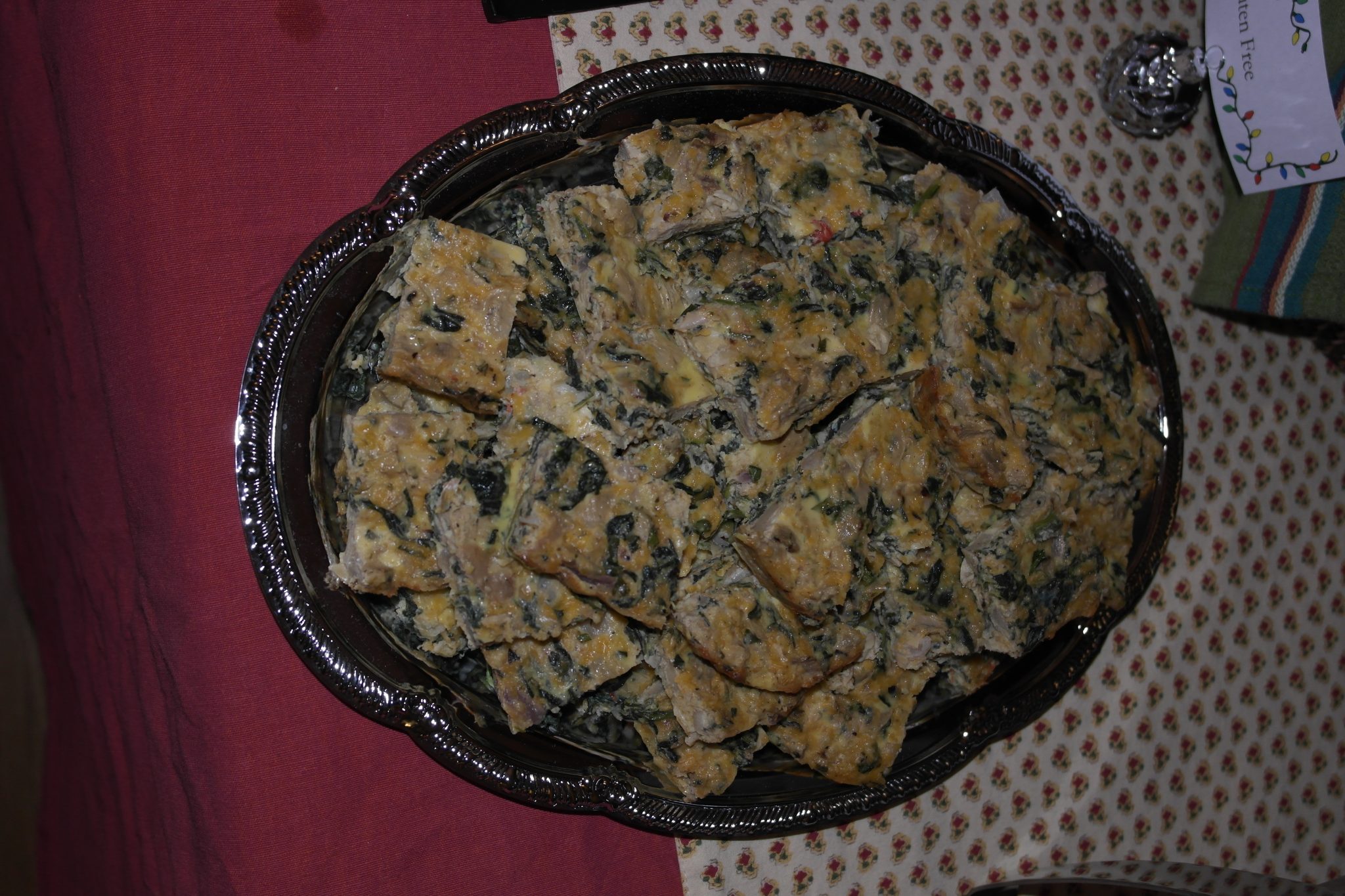 This adaption of an Artichoke  snack takes all the parts of that fav dip and turns it into a solid form. A great starter or stand-in base for a Sunday brunch or midweek "clean out the refrigerator" meal.  Tonights versions had roasted red peppers added into one. The use of the marinade from the artichoke then cooked off really set this apart from other recipes. This version is adapted from one found that was similar to one I have cooked since I was a kid.  
I have adapted this to add the spinach and other flavors items. When adapting this – keep in mind the balan
ce between wet and dry as that will affect the final outcome..
This years version came out tasty – but was a little loose – I would adjust it to either more egg to give it more body or serve it in a
rustic cutting board pre-cut instead of pile it "cookie plate" style.
2 jars (6 ounce size) marinated artichoke hearts
1/2 – 1 box frozen spinach thawed and squeezed (not squeeze again!!! Imean you want super dry)
1-2 pinches of Nutmeg to taste
1 small -medium yellow onion, peeled and finely chopped
1 clove garlic, minced
4 eggs, lightly beaten
1/4 cup fine dry bread crumbs
1/4 teaspoon salt
1/4 teaspoon black pepper
1/8 teaspoon dried oregano, crumbled
1/8 teaspoon hot red pepper sauce
2 cups coarsely shredded sharp cheddar cheese
2 tablespoons minced parsley or cilantro
Note: You can also add pre-cooked chicken, sausage, raw vegetables like squash and zucchini to this dish or use with left over roasted vegetables, marinated peppers. For every cup of "stuff" I add, plan to add 1 additional egg to the batter and additional bread crumbs.
Directions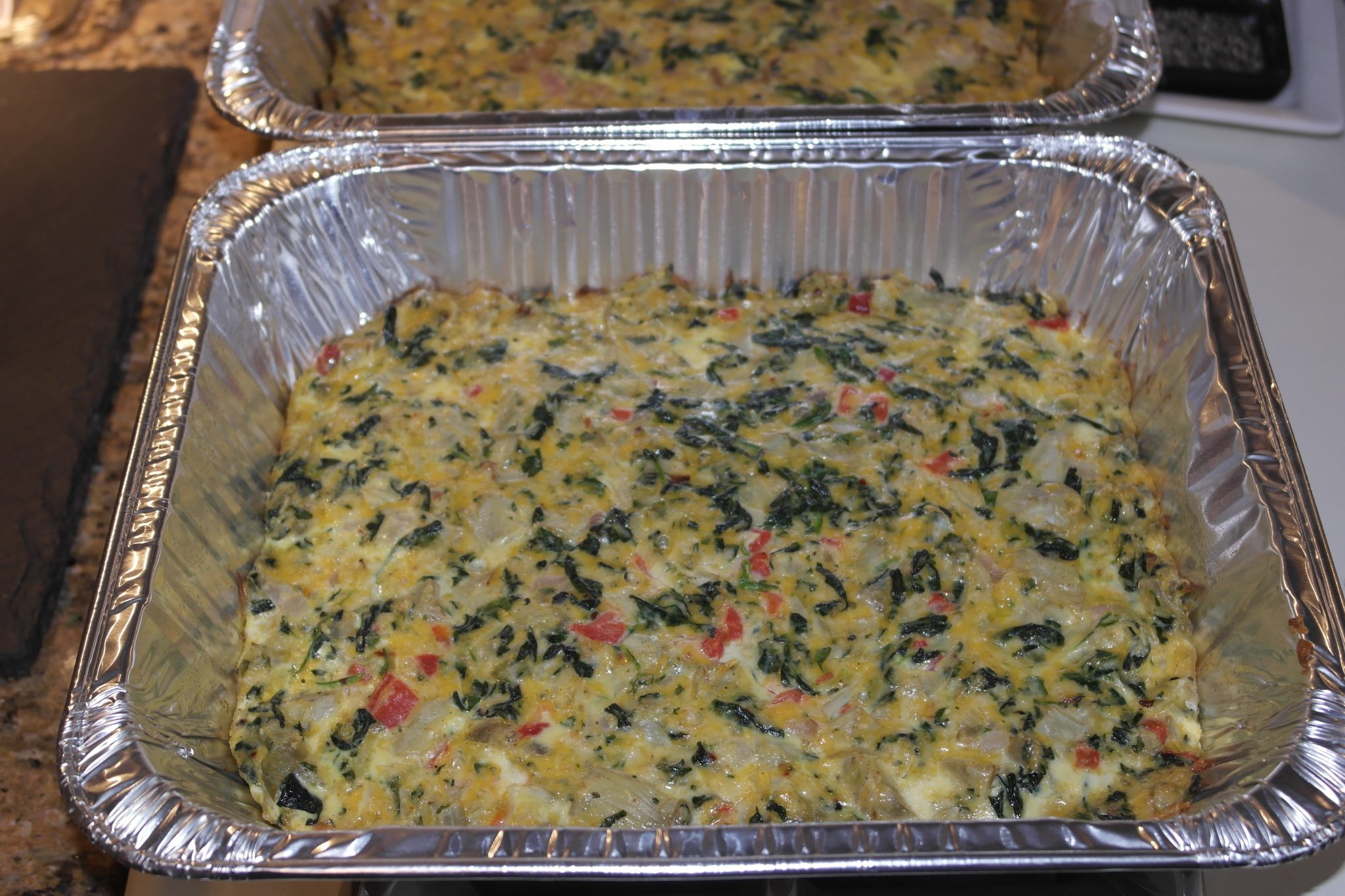 Preheat oven to 325 degrees F. Grease 8-by-8-by-2-inch baking pan; set aside.
Drain marinade from half the artichokes (one jar) into small skillet; discard marinade from second jar. Coarsely chop artichoke hearts and set aside.
Heat marinade in skillet. Add onion and garlic to skillet, set over moderate heat, and stir-fry until glassy, about 3 to 5 minutes. Cool 5 minutes. Transfer to large bowl.
Add eggs, bread crumbs, salt, pepper, oregano, hot pepper sauce, cheese, chopped artichokes and parsley, (the squeezed spinach if used and other items) and mix well.
Pour into foil pan (or glass brownie pan – the original recipe suggest a cast iron skillet would I think would be perfect as well) prepped with cooking spray and bake uncovered about 30 minutes, until set like custard. Should be slightly browned at the edges.
Cool slightly in the pan, cut into squares, and serve warm or at room temperature.
By adding the full box of spinach and doubling the eggs and bread crumbs you can make a larger version of this. If you put it all into the ½ size deep foil pans – it will raise – making it good for a meal – but not as workable for a party unless you serve it as "spoon bread" type dish. Ultimately it's a preference thing.
This is a favorite type of recipe – as it isn't a set one –  explore it.
Note:  I will share the version I grew up with, which is similar to this one and uses sausage and  zucchini  and like this one, is meant to be eaten as a "brownie"  or if doubled as a brunch or egg entrée.
Original Recipe Source: Sunset All-Time Favorite Recipes, Adapted FVStrona 2013