In the past, I had posted about making a slow-cooker version of rice porridge or a rough version of congee. So when a pal who also happens to be vegetarian mentioned he was sick I played around with a version that he might like. After making a few times, and with my housemate writing things down as I "added this and that"  I came up with this version of the recipe below. But this is mostly a recipe to taste. So start with conservative amounts and then you can add more halfway through to meet your pallet needs. the soup is done pretty much when it is thick and rich.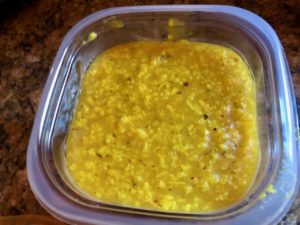 Ingredients
1 cup of Arborio Rice (you can use other kinds of rice, this is one I like as I often have it on hand for other dishes)
6 cups of hot water (from the tap is fine) or you can use vegetable or chicken stock for more flavor.
3-inch piece of ginger peeled,  or (ground ginger about 2 teaspoons)
1-2 Bay leaves (fresh or dried)
1 2-inch strip of lemon peel ( or a 1/2 teaspoon of lemon zest)
1/2 teaspoon (or up to as much as 2 teaspoons to taste)of Zaatar ( you can also use any other dried herbs such as Herbs De Province or even Oregano)
1 teaspoon of onion flakes (you can use 1/2 cup of diced onions if you want more texture as well)
1/8 teaspoon of garlic powder
Stat with a 1/2 teaspoon and then add to your taste to a total of 1 teaspoon of fresh ground black pepper (you can also use white pepper) but I like the flecks of black in the finished product
1 4-5 inch sprig of Rosemary
1/8 (or up to as much as 1/2 to  taste) of Ground Aleppo pepper
3 heaping teaspoons of Tumeric
1/4 teaspoon ok kosher salt (or more to taste)
1 tablespoon of dried parsley (fresh is fine as well but add towards the end)
1/4 teaspoon of Cayenne pepper
2 Tablespoons of Agave syrup
3 Tablespoons of Apple Cider Vinegar
1/4 – 1/2 juice of one lemon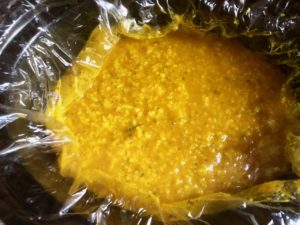 Optional – slow cooker liner bags. I started to sue these for some of the dishes I make that could get sticky. This is one of them that it works great with but totally optional.
Instructions
To your slow-cooker add rice and water. Turn on high.

Add the following now:

Bay leaves, garlic powder, onion flakes, lemon peel, 1/8 portion of the black pepper and the rosemary.

Cover and leave it alone for 4 hours. You can stir occasionally after the first hour.

After 2 hours

add the Aleppo pepper, Tumeric, Zatar, salt, dried parsley, Cayenne pepper, Agave, Apple Cider vinegar and lemon juice
Stir well and taste remembering you will taste it again in a few hours once the base flavors have melded some.

After another hour, stir and taste.

Make adjustments to any of the flavors. You may also want to add additional water (up to 2 cups) if you feel it is too thick for your taste)

After a total of 4 hours

Remove the bay leaves, rosemary, ginger root and lemon peel.

Serve warm.
Total cook time is 4 -4.5 hours
A few additions – you can through in some butter or stir in some coconut oil (about a heaping teaspoon) at the end to add some smoothness.
SaveSaveSaveSave
SaveSave
SaveSave
SaveSave