Planning and Brunch at Le Marais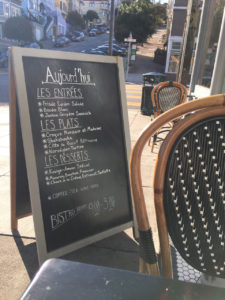 A busy week of late, as I prepared for a trip to Alexandria, VA for a week of meetings. Including one of which is a workshop, I am hosting as part of my other world. But knowing that, on Sunday I took Dino for a morning walk and I even managed to get Paul up to go with a promise of brunch. We had heard a lot about the new Le Marais Bakery that made moved in on 18th & Sanchez. But hadn't had a chance to sample it. It has been some time since I was last in France, so anytime I can enjoy some of the flavors I look forward to it. When we saw seating outside – we grabbed it for sure.
A menu I look forward to sampling more of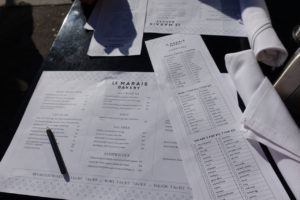 I really like the Le Marias  "Board" menu which lets you choose from a variety of options. This is perfect for me as I am not normally an omelet person. After waiting for an unusually long time,  a server came over to check on us and I think realized we hadn't even been offered coffee. Once they fixed that and took our menu, we were pleasantly surprised when another server came by with an offer of two curtesy pastries to apologize for the delay.
Not being one to say no to the temptation of the baked kind, I went with the savory scone of the day and Paul grabbed the almond croissant. So just to stop you from wondering if you should? YES! You should. They were great. The scone was the right balance of cheese, dense and savory with chunks of ham. While the croissant was crisp, rich and layers of the almond filling but not so much it was like paste inside as some other spots tend to do.
We both opted to order from the Board Menu, my going for a smoked salmon and lox theme and Paul with a more traditional egg, avocado one. From a quality perspective  – I was very pleased.  While paying for the check, I went up to the counter and purchased a few other take homes and again was pleasantly surprised when the house tossed in an extra croissant for the trouble.
It is service like this, that will make me a customer on a routine basis. I don't need extras on every visit – but I do appreciate places that put the effort out to recognize when"service had a moment" with a gesture. Overall a great showing at Le Marias Bakery in the Castro.
On Facebook: https://www.facebook.com/LeMaraisBakery and Twitter and Instagram as @LeMaraisBakery