This old-school recipe originates from one of my Mom's cookbooks. I adapted it a bit to use for a Princess Cake base.
Hot Milk Cake
4 Eggs (I used XL, the recipe doesn't specify)
2 cups Sugar
1 cup Milk (Heated)
2 cups Flour
2 tsp Butter, melted
2 tsp Baking Powder
2 tsp Vanilla extract
in a small pan, heat the milk and butter until hot, add vanilla, stir. Turn off heat

Butter and flour 2-9 inch round layer cake pans (or use cooking spray and parchment paper on the bottom)

In a mixer, beat eggs until light, then gradually add sugar till creamy

Sift flour, salt and baking powder on wax paper or in a small bowl.

Gradually add the sifted flour, baking powder, salt

Slowly add the hot milk/butter/vanilla blend to the batter on medium-low speed until well mixed

Pour batter evenly into the two pans.

Bake for 30 – 40 min, or until toothpick comes out clean. Check in several places

cool in the pan for 10 min, then loose the sides with an offset spatula and upend them to cook on a metal rack.
I used this basic recipe for the Princess Cake an found the dome pan needed a longer bake time. I found a simple confectionery sugar and milk glaze with some lemon zest was a nice touch.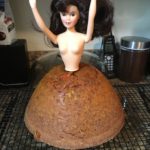 SaveSave