Ingredients:
Two xl eggs
Three well ripened bananas
8 tablespoons (1 stick) unsalted butter, room temperature
2 cups of Flour (all-purpose)
One cup of Sugar
1 teaspoon ground Cinnamon
1 teaspoon of Salt
1 teaspoon of Baking Powder
1 teaspoon of Baking Soda
1 teaspoon of Vanilla
1 tablespoon of whole milk or almond milk or Mocha Mix brand nondairy coffee creamer.
Directions:
Preheat the oven to 350 degrees if you are using a clear, silver or silacone loaf pan, 325 degrees if using a dark pan. Adjust the racks so that you have one in the middle with enough clearance allow the bread to rise.
Grease a loaf pan.
I still use the butter method, but a good quality cooking spray will work as well.
9 x 5 x 3 inch will work nicely.
Mix the sugar and butter in a large mixing bowl until light and blended.
Add the eggs one at a time, mixing well after each addition.
You can use an electric or hand mixer, or the old fashion way, with elbow grease and mix by hand.
In a smaller bowl, mash the bananas. A strong fork works or or place the pealed bananas in a ziplock bag and mash by hand.
Mix in the milk (note: Almond Milk or Mocha Mix both work as well), vanilla and cinnamon. Mix till blended.
In another bowl (or a large liquid measuring cup, the one with an edge to make it easier to pour) mix together the flour, baking powder, baking soda and salt.
After mixing the dry ingredients, if you want add 1 cup of chocolate chips into the flour mix.
By coating the chips with the flour, it helps them from sinking to bottom of loaf pan.
Add the banana mixture to the blended sugar & butter mixture.
Stir until combined.
Add dry ingredients, mixing in just until flour disappears.
Pour batter into prepared laof pan.
Bake 1 hour to 1 hour 15minutes.
When a toothpick inserted in the center comes out clean its done.
Start checking at 1 hour.
Remove from the oven, and let the bread still in the loaf pan, cool on a rack for 15 minutes.
Gently slide a toothpick around the edges of the loaf pan to loosen the edges so that nothing is stuck.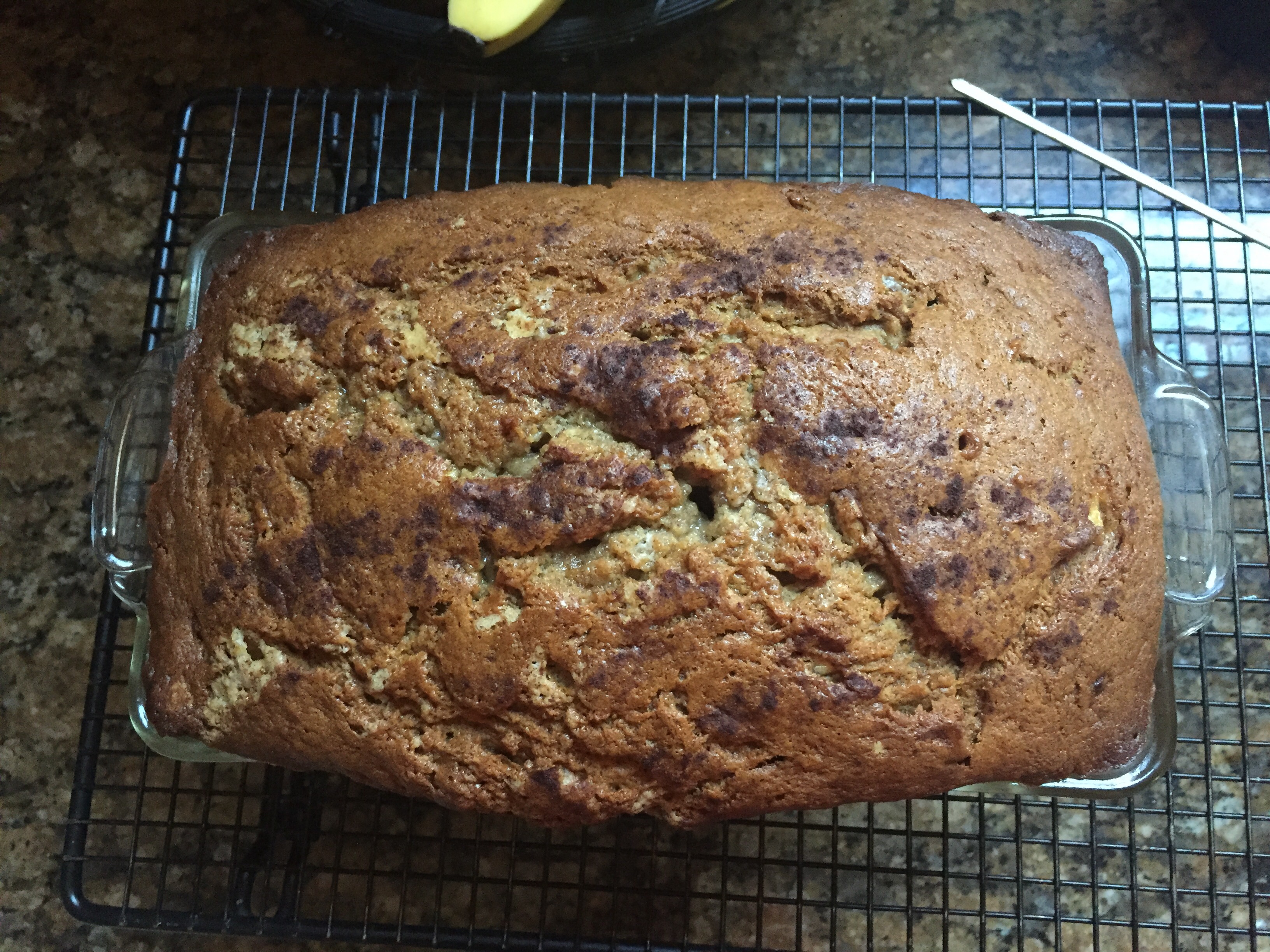 Remove bread from pan, invert back onto rack and cool completely before slicing or wrapping in plastic wrap.