A good thing I learned metric; after we watched the Great British Bake Off Masterclass episode (season 1, part 4)  the other night, they got me at the "Cherry Chocolate bread". As it merges two of my two favorites flavors, I looked up the Paul Hollywood recipe to see if I could recreate it. After 2 proofs, one braid and a bake.. it's was done! Now all we have to do is taste.
After 2 hours; the cooling had commenced –
Yea. Like we were really going to wait till breakfast. Put the kettle on and get the good butter.  Im already thinking how good this will toast or end up as french toast or bread pudding!
So in the end; how did it compare?
The picture of his: 
  and mine: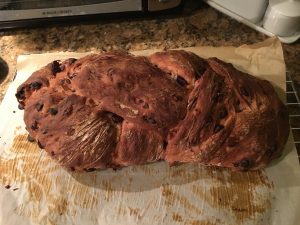 .
I think my crust was darker – but I also don't have it well lit. In the end – no complaints.  For the full recipe visit: http://www.pbs.org/food/recipes/pauls-chocolate-cherry-loaf/
But in the mean time; we can nibbled on some "Chestnut & Golden Raisin Biscotti" (I was out of dried cranberries).