So last night was once of those nights, that I get every so often. I know I want to eat at home since we were planning to go out the next night. But also wanted to use up what I had in the fridge.
So after an assessment;
I had lots ( and I mean lots) of eggs
Left over assorted cheeses and spiced meats from  Saturday night's cheese plate
A few jars of good quality crushed tomatoes.
All that prompted me to remember a dish from the past, where you essentially "poach" eggs in tomato sauce and cheese in the oven.
So my dinner menu was hatched.
For the full recipe visit;
Baby "Chicken" Parma (aka Poached Eggs in Tomato Sauce)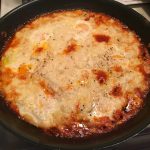 A quick and simple makes egg, sauce and cheese dish for a simple supper with a side salad or bread.
8 eggs
2 small jars of crushed tomatoes
1 teaspoon minced garlic
1 -1 1/2 cups chopped assorted cheeses
1/2 cup grated parmagianno cheese
1 tsp Black Pepper
1-2 teaspoons Parsley (I used dried, but fresh would-be great too.)
Heat the stove to 350.

Chop up the cheeses and meats, set aside.

Mince garlic.

In an oven proof skillet, add 1/2 teaspoon of oil, toss in minced garlic and sliced meats, saute' over medium until the meat begins to render some fat and get curled.

Add the tomatoes, black pepper, and parsley to taste.

Simmer on medium for 15 – 20 min. Taste for seasoning.(Salt, pepper etc)

Turn off the burner

Crack the eggs into the sauce – gently in. circular pattern with one in the center.

Then surround and cover with the cheeses

Place in the oven for 20 – 25 min on the upper middle rack until the cheese is bubbly.
 You want the eggs to be cooked but yolks still runny. Sprinkle some more grated cheese on it, toast up some bread and ladle it on.