Canteen was one of the suprises when they first opened in 2013 that has managed to keep it a favorite casual meal spot. With its rough and simple "shake-like chaos" to the incredible fresh and vibrant flavors – Canteen is always a perfect way to each and people watch. One of the signature dishes is the fried brussels sprouts. In fact that was was usually brings us in. They manage to do make the smoky, crispy and tender all at the same time. It's like "vegetable crack".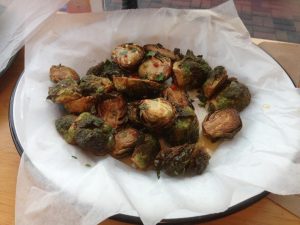 But on this trip it was all about the hot  "lobster roll". While some folks prefer the cold kind blended with mayo – I much prefer my warm (barely cooked) and dressed with butter.  In this Canteen blew us away. Often time we here people refer lobster meat as being "sweet'. Generally it's not and an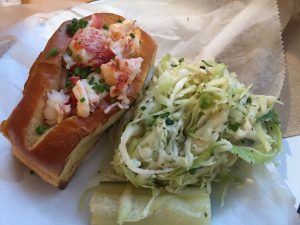 be rubbery and tough. Canteen manages to bring the sweetness out, kisses its with butter and lovingly scoop it into the grilled role. This is a "not to miss" dish.  Note: they have a back eating area that often time people miss.. so don't be turned away if you don't see seating in the front.
Check them out on Facebook or visit them on the web at thecanteenptown.com or Yelp
225 Commercial Street
Provincetown, MA 02657
Open lunch and dinner
11 AM-11 PM
No reservations