A new workup on a sweet and smokey butternut squash soup.  This one has a mix of Granny Smith apple, carrots and smokey paprika added. Super easy to adapt for vegan as it is to make it super rich and full calorie.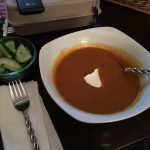 Sweet & Smokey Butternut Squash, Apple and Carrot Soup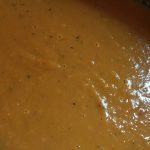 2 cups vegetable stock (low or no sodium)
2 cloves garlic (peeled and minced or three squirts of garlic paste from the tube.)
2 large carrots peeled and diced
1 Granny Smith apple (cored and diced)
1 medium (uncooked) butternut squash (peeled, seeded and diced)
1-2 sweet potatoes (or yams) (the orange one!)
1 teaspoon chopped fresh sage
1 white onion (or 2 leaks chopped, cleaned, diced or)
1/2 teaspoon salt (or more to taste)
1/4 teaspoon freshly-ground black pepper (or more to taste)
1/4 teaspoon a 1/2 smokey peprika
1/8 teaspoon cayenne (or more to taste)
1 teaspoon honey or agave syrup
1 tablespoon light brown sugar
1/4 teaspoon of ground cinnamon
A pinch of nutmeg
1/2 cup canned (unsweetened coconut milk or Almond Milk)
Add vegetable stock, garlic, carrot, apple, butternut squash, sage, onion, salt, pepper, cayenne, honey, brown sugar, peprika, cinnamon and nutmeg to a large slow cooker. Toss to combine.

Cook for 6-8 hours on low, or 3-4 hours on high, or until the squash is completely tender and mashes easily with a fork. Remove and discard the sage. Stir in the coconut milk, almond milk or even Mocha Mix.
Use an immersion blender to puree the soup until smooth. (Or you can transfer the soup in two batches into a traditional blender, and puree until smooth, being very careful when working with the hot liquid.) Taste, and season with additional salt, pepper and cayenne if needed.
Serve warm, with optional garnishes if desired.
Optional garnishes: extra coconut milk, almond milk and a sprinkle of cayenne pepper (or smoked paprika) or sour cream. To add crunch top with toasted onions, pumpkin seeds or garlic chips. 
This recipe is adapted from http://www.gimmesomeoven.com/slow-cooker-butternut-squash-soup-recipe/  
See the note one the site, which was a smart add: a medium-sized butternut squash should weigh around 2 lbs or so, or about 2 1/2 cups, (so you would need about 32 ounces if buying pre-cut butternut squash).