This recipe is one I found several years ago and has become a regular standard. I make it a bit different every time and find that its a forgiving recipe and can be adapted based on whats around and to your own tastes. I also love it because its a 2-meal deal for me.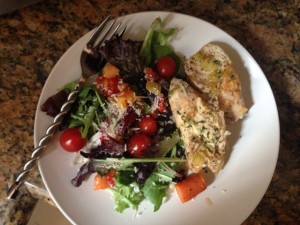 I make it once and eat the chicken for the first meal  (usually with another  vegetable I roasted  or  a simple salad. Then with a quick process with my hand blender, and some finishing touches  – its becomes a rich and hearty soup for lunch or dinner the next day. In fact I will often toss in any left over chicken (cubed or shredded) the next night to add more portien to the soup.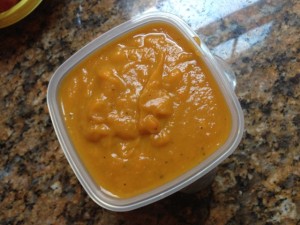 In the fall I tend to go heavier with the maple, nutmeg and spices to give it a more autumnal taste – while other parts of the year I tend to like it sweeter to add more of the juices and hoisin sauce.
The link below will get you to the original. What I an sharing is my version.
The Original version: Maple-Orange Chicken with Acorn Squash and Sweet Potatoes was one I saw on the Food Network – and when I looked at the posted comments – also mentioned some challenges about meat being dry and that the chicken itself is good but not pretty and that the vegetables were unappealing visually to serve. But since I liked all the elements I figured I could work with this to make it work for me.
Note: While I use a combination of chicken breasts and thighs,  its great for chicken thigh lovers which also makes it more cost saving
Ingredients
18 oz of cubed butternut squash
1 small  acorn squash, peeled, seeded, and cut
1 sweet potato, peeled and cut
2 – 3 leeks, rinsed and chopped
2-3 large carrots, chopped
Note – try to chop all the veggies in similar sizes so they cook as a similar rate.
3  skinless chicken breast  halved (without bone) and 2 chicken thighs ( you can omit the thighs but I find they give the soap a nicer flavor)
Salt and cracked black pepper to taste
1 cup orange marmalade ( I tend to use more like 9 oz)
1 cup reduced-sodium chicken broth (you can add up more  broth – if you are using a 14 oz can, and don't have another use for it, I use the whole thing and I find it didn't change the taste much)
1/2 cup orange juice (lime and lemon works great – I am thinking so would pineapple)
2 tablespoon hoisin sauce
2 tablespoon maple syrup ( The real stuff)
1/2 teaspoon of ground cinnamon
1/8 (or to taste ) of ground nutmeg
Seasonally I have also added sprigs of Thyme, Rosemary, and other herbs – Its up to your taste really – but remember it cooks for 4 – 6 hours
Directions
Layer the squash(s), carrots and sweet potatoes and 1/2 leeks in the bottom of the slow cooker.
Season chicken all over with salt and black pepper and place on top of vegetables, then cover with the remaining leeks. It will be a full pot.
In a container (one that can be shaken or whisked in) mix the orange marmalade, maple syrup, hoisin sauce, spices, herbs, orange juice and 1/2 the chicken broth.
Now taste it! Adjust the flavors and then add the rest of the broth.
Mix well and pour 3/4 down the inside, side of the crock pot first, then slowly poor the rest over the chicken and vegetables. I find that this is where I adjust some – I like the liquid to cover the chicken – but it doesn't have to.

Cover and cook on LOW for 6 to 8 hours or on HIGH for 3 to 4 hours (Note if you 

have

 a newer machine – use the shorter times and then check the chicken. Mine is a  new one and on hight Im in good shape by 3.5 hrs but over 4 on high dries out the meat. The Low and slow is my preferred method and I find it can be ready in 6.5 – 7 hrs.
Once the chicken is ready – I remove it from the pot, and place in a warm bowl.
Ladle out some of the cooking broth;  cover the chicken with some and put some aside to save or freeze for re-use later (it will be a great stock). You can also make a great gravy if you are inspired using the broth as drippings.  Toss a salad or some other vegetables that haven't been simmered all day  and dinner is served!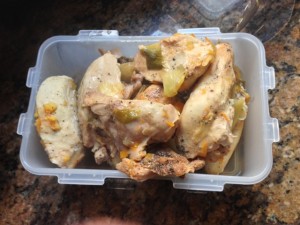 I have been asked by I remove some of the broth? Because I will be turning the veggies into a blended soup – I don't want too much of the liquid to thin it out too
fast. Its easier to remove some now then add it back  while doing the Meal 2 steps as ne
eded.
Now – for Meal 2 -What to do with those veggies!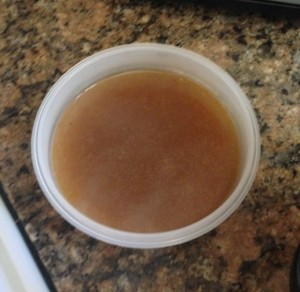 Make soup of course.   I am accused of making this dish purely for the soup part (which isn't far from the truth on some occasion).
Using a hand immersion blender start to puree the warm veggies.
I do it right in the pot but remember to unplug the pot.
Once I get a thickness, I add Mocha Mix
( YES – I SAID MOCHA MIX! – remember I am lactose intolerant so tend  save my dairy for times when I really want it) but those of you who want you can definitely add cream or milk.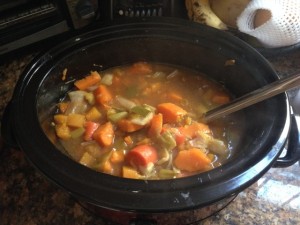 Add it slowly as you blend until you get the smooth, silky consistency you prefer.
Adjust for taste at this point – do you want more spice or herbs, honey or maple syrup etc.
Cool and refrigerate (or eat!) This soups reheats great and also freezes well.