This is just your average layer, pour and bake egg dish. Portions and measurements are you really to your taste. Use mine simply as a start.
No Frils Chicken & Egg Bake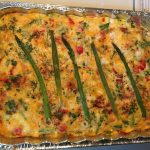 This basic and very adaptable recipe works great with leftover meats, cheeses, and veggies. Most veggies can also be used raw – but pre-cook all meats first. This is the perfect brunch or easy supper.
18 Eggs (Large or XL or use 1 quart of liquid eggs)
2 cups Shredded Chicken or other meat (Precooked and chopped or shredded)
1/4 – 1/2 cups Veggies (any will do)
Salt & Pepper to taste
1/2 cup Cheddar Cheese (Cubed)
8 ounces Cheddar or other cheers shredded (For Topping)
1/2-1 teaspoon Parsley (Fresh or dried)
1/2 teaspoon Red Pepper flakes (Optional)
Spray a brownie pan, casserole dish or foil pan with cooking spray

Layer chicken, then veggies, then cheese, the herbs. Sprinkle with salt and pepper

Pour eggs evenly over entire pan (if using fresh eggs, crack and whip them up some)

Sprinkle with shredded cheese. You can also add some grated parmesan cheese to it. When I bring this to an event I will sometimes layer a few veggies on as decoration to let people know what is in side

Turn oven on to 350 degrees

Place on the middle rack and bake uncovered for 40 – 50 min. Check for doneness (is will wiggle slightly in the center)

Serves warm or room temp. Makes great lunches.