I am a huge biscotti fan and I have hate paying the price for them in the store when they are super each to make. I do a bunch of flavors, but one of my "go to's" is a recipe for mini M&M Chocolate Marble Biscotti that I found some time back. But with friends and family members eating more Keto or gluten-free I have started to play around with recipes and this one got a remake this week.
So I went from this version with all the sugar and flour: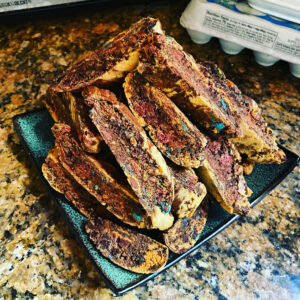 To a new version that uses almond four, sugar substituted ingredients: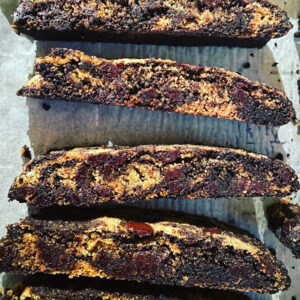 With a few minor tweaks, I was able to get it working to rave reviews. But first, you have to have the ingredients. So I used these alternative brands (I don't have a relationship or affiliate with any of them) but they are all easily available at both Safeway and Luckys grocery stores. in my test batches, I found I liked the chocolate bars chopped up better than using the Lily's chips.
Here is the recipe:
Ingredients
1/2 cup of margarine softened (You could use butter but it will affect the softness of the biscuit – but add more flavor)
1 cup granulated sugar substitute – I used the Monkfruit version
Two large eggs
1 teaspoon Vanilla extract
1 pinch of salt
2 -3/4 cups Almond Flour ( with up to an additional 1/4 cup if needed on the side)
1 teaspoon baking powder (you may find you can use less)
1 teaspoon baking soda (you may find you can use less)
1 -3/4 cups sugar-free chips or chocolate bars chopped up
1/4 cup unsweetened cocoa powder*
1 cup slivered almonds (optional)
2 tablespoons instant coffee granules (optional)
1/2 teaspoon Almond Extract (optional)
To make:
Preheat over to 325°F.
Cover two cookie sheets with parchment paper ( if your sheet are large you can do two bars at once but they will spread some)
Note- this batter is soft enough to do by hand or hand mixer if you do not want to use a stand mixer
Steps:
In a large bowl, cream margarine and sugar substitute until light and fluffy;
Mix in eggs and vanilla.
In a medium bowl combine flour, baking powder, salt, and baking soda;
blend into creamed mixture. Note: The dough will be much softer than the traditional version.
you may want to add in some extra almond flour here if needed.
Stir in 1 1/4 cups of chocolate pieces, mix well
Layout plastic wrap on your counter and scoop out the dough and shape into a ball with your damp hands.
Divide dough ball in half. Put one half back in the bowl, and leave one on the counter.
Add the cocoa powder and coffee granules to one half of the dough in the bowl. Work together until the dough and powders are mixed. The cocoa powder will make the dough stiffer as well.
Making the marbled look
On the plastic-covered counter ( you can also use almond flour on the counter if you prefer not to use plastic). Gently knead the  "white" dough and shape it into a wide log. Put aside.
Do the same with the "chocolate" dough and gently knead into a similar shape
Place the two logs together, one on top of the other, and knead them three times together to form a marbled effect.
Divide the dough into two pieces again  and roll out as two similar shaped logs about 2 inches wide
Baking:
Place each log on a cookie sheet, (leave room around the log as they will spread in baking).
Bake for 20-25 minutes ( Almond flour burns faster than regular flour – so keep a close eye on it. In my oven 20 min was perfect)
Remove from the oven and let cool in the pan for 15 to 20 minutes
Carefully remove from the pan to a cutting board (They will be soft! )
Using a serrated knife, slice logs into 1/2 inch slices (it may yield anywhere from 12 to 15 slices per log depending on how you cut them)
Rearrange them back on the cookie sheet cut sides down.
Bake an additional 10 minutes, Turning the over halfway through is optional
Turn the oven off and let them sit in the oven for another 5-10 min
Then remove from the pan and let them cool on a rack. store tightly covered
Other tips
Wrap each log in plastic and place in the refrigerator fo 15 min – 30 min before baking to chill helps to slow the spread when baking.
You can freeze the logs until ready to bake in the future, just let thaw 10 -15 min before baking.
Adding the coffee granules is optional. If I don't have any, I don't use them. Don't use ground coffee.. it will be too bitter