This quick bread is incredible easy to change and use what ever you have handy.
Roasted Chicken, Broccoli and Cheese Bread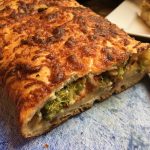 This is a super adaptable and quick meat stuffed bread made with store bought pizza dough and a great way to use up leftovers.
1 bag Store bought pizza dough (use the one in the bag (or make you own dough))
2 cups Chopped protein – this case I used roasted chicken
2 cups shredded cheese (your choice – reserve 1/4 cup for topping)
2 tbsp grated part cheese
Olive Oil
1 cup chopped raw broccoli (Or other vegetables)
1 tsp red pepper flakes
Salt & Pepper
Take out the dough and let it come to room temperature and rise (about 2 hours)
Turn the over on to 450 degrees. If you have a pizza stone – put it in now in the lower middle rack

On your counter – place a sheet of aluminum foil. drizzle some olive oil on it and spread the dough out into a rectangle – depending on the size of the dough – will determine how thin and large you can press it out.

Drizzle more olive oil on the dough, sprinkle with what ever herbs or seasonings you have handy on it. Spread the chicken, broccoli and cheeses on the top half. But leave an inch at the top.

Pat the mixture into the dough gently. Gently role the lower half up on to the top half (think calzone). Then dab some oil on your fingers and use as glue to seem the edges.

Then grabbing both ends of the foil, use it as a guide to role the bread into the "log" shape.

Cooking you can either – place it on the pizza stone as is (or with out the foil) But I tend to keep the foil on as it makes for easier clean up if the bread leaks.

Sprinkle the bread with the remaining cheese (add some more grated cheese if you like) and place in the oven. Cook for 20 mins at 450, then reduce heat to 350 and cook until done. Apron 15 – 20 min more.

To improve the outer crust – toss in a few ice cubes on the bottom of the oven to create some steam as you shut the oven.

Remove from the oven and place on a rack for 5 min – then peel away from the foil. Wait 10 min and cut.
SaveSave