A few weeks back we went to a local joint that has been well spoken about for some time. I have first heard about it from Check Please, one of our fav local food shows then it came up among friends who live out in the Bayview. Old Skool cafe is a concept resturant that take youth and trains them to work all the roles in the food service industry while at the same time putting out some pretty great food.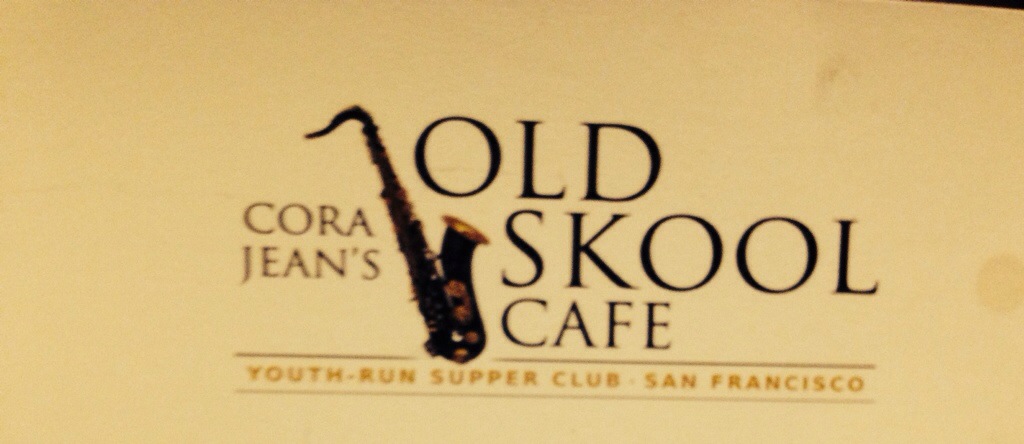 The resturant itself on the outside doesn't look like much – but once you walk in, you get a very jazz meets speakeasy feel. The staff is friendly and eager to practice freshly learned skills – but we didn't find it pushy or amateur.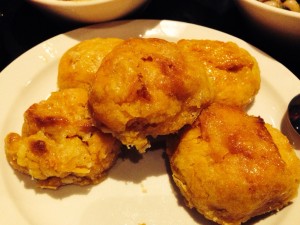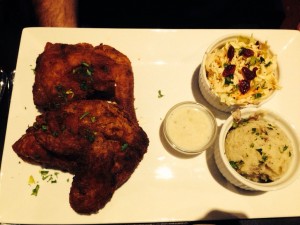 We were seated quickly and while looking over the menu they left us with some sweet potato biscuits which are not to be missed. We ended up ordering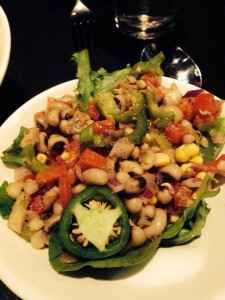 another order with our meal.
Not knowing how the food was we decided to order creatively to get a nicesampling. For our starters we went with a black-eye pea salad ($7) – this southern style salsa had great textures and tasted nice – but lacked a bit of zig and was a little dry. I think it might have needed an acid to the dressing or more dressing mixed (maybe stirred more) before serving. A squirt of lemon on it for me freshened it up nicely – so I am leaning towards a simple oversight to mix the salad before plating.
We also opted for Abu's Peanut Butter Stew (8$, 14$). We decided to get a cup sized order as a second app – served over rice with chicken – this was magic. I might have to say this is one of those "sex" foods you hear people talk about – it have all the right curves – taste, texture, aroma and pop! As is one of the two favorite dishes from the night.
For our entrees we went with the Jordans fried chicken dinner (24$) and pan seared smokey shrimp and cheesy grits (16$). The fried chicken was hot, crisp and moist inside. So good that we eyed the two large pieces thinking maybe take home one for lunch the next day – umm – no! They deserved to be eaten now. Oh and when I mean hot – I mean "fresh from the oil" hot. The chicken comes with a few sides of mashed potatoes, slaw and gravy .
On a side note -all three of these were underwhelming. The mashed potato were barely warm so was a contrast wight he chicken in a way that didn't work, The slaw has nice texture – but was bland. It needed more zip to it, felt like was mayo and cabbage than anything else. The dipping sauce  – I didn't get. It was very loose and white but didn't really have any flavor. it also come cool so wasn't sure it was supposed to be a "gravy" or something – but we essentially ignored it.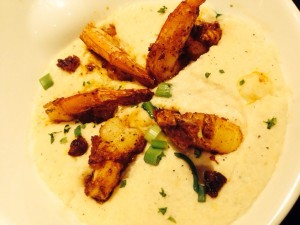 For for my option – I went with those smokey grits and shrimp — I could have slathered it on me it was so good. Again as the primary point of focus – I enjoyed every bite. I can see eating that again for sure. The shrimp have a spicy rub on them that has some kick – so may not be to everyone's liking. I liked it – but I could be as happy eating it with a simple smokey grilled shrimp too  along side those wonderful grits.
1429 Mendell St




San Francisco

, 

CA

 

94124

b/t Palou Ave & Oakdale Ave in Bayview-Hunters Point
Menu: oldskool