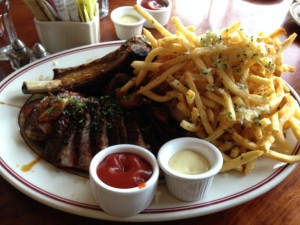 Every so often we hit a restaurant that offers us outstanding quality and enough leftovers that I know I am going to get inspired for the "morning after".
After a recent visit to the Precidio Social Club in San Francisco for some birthday celebrations –I ended up with some of my meal as a "doggie" bag. They have on the menu an oven roasted ribeye steak for two (30oz), which while on the expensive side ($48 per person) is also some of the best beef I have ever eaten and comes with a huge amount of crisp seasoned fries
 So what to do with those left overs for Sunday breakfast?
Then I remembered a dish I had done some years back that vas a variation on Shepard's Pie that had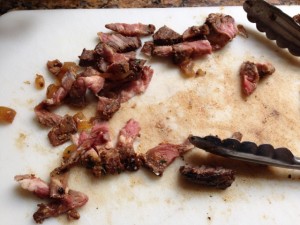 a potato base that crisped up.
 Preheat the oven to 350 or 375 degrees ( I used both and they work fine affect the cooking time)
 In a clear glass casserole dish (I stress clear here since when I have made version in metal pans they tend to not crisp as well)
Spray well with oil cooking spray
 Layer the French fries and gently press into place. You may want to add salt, pepper, herbs, etc if your fries aren't spiced. (hint: Tator Tots right from the freezer work great for this recipe too!)
In this case I had leftover steak so spliced it up into fork sized pieces (chicken, grilled hamburger, etc all work fine – the idea is meat needs to be cooked or smoked previously) and spread them as a layer over the potatoes.
 Break up 5 – -6 eggs. I have used as many as 12 depending on the size, the number of people eating and how dense I want the dish.
 Add dried or fresh parsley (chopped), salt, pepper, cayenne, fine grated parmesan chees. Fork whip until incorporated.
Pour egg mixture evenly over the meat and potatoes. The way I prefer to make this is the have the egg mixture just barely hit the top of the solids. I adjust accordingly sometimes here –adding more vegetables or less egg etc.
Top with cubed or shredded cheese that you have a round – in this version I used chedder and a gouda, then sprinkle ½ – 1 cup more of grated cheese. The chees is to taste – it forms the cover of the dish as the eggs cook and the potatoes crisp.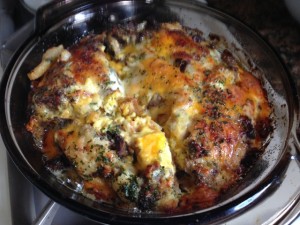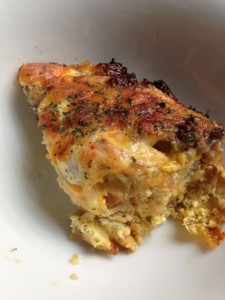 Tap the dish a few times to settle any air pockets out. Add any other herbs or last minute leftovers you think will complement it.
Bake for 40 – 60 min. You want it fully set in the middle so a stick comes out clean from the egg part. Smaller portions can do this in 30 mins.
Remove from the oven, let cool a bit.
You can serve this hot from the oven or warm. I have even used this as a "go to" brunch dish and made it in glass brownie pans, making it as a savory "brownie" served more at room temp. When I do that I often like to have a salsa or pesto sauce to serve over it as a "sauce". Once I even used left over gravy from the night before and added cheese to it while reheating to thicken it