Bite-Cap2: What a week! – Part 2
This morning I posted my "What a week! – Part 1" and included a Bite-Cap of the week's happenings.
The launch of the #FoodMemories17 Guest series earlier last week,  
A follow up of my TechInclusion "TED" Style talk on Mentorship and LGBT at SF Armory building,
Getting a chance to listen to blogger and cookbook writer Cenk from www.CafeFernando.com talk about his newest cookbook "The Artful Baker", dinner at some fun spots around town, a 5.4 mile local urban hike, an educational trip to the Academy of Sciences for a "Nightlife" event, a look back with a chocolate chip pie and wrapped it all up today with some killer themed food for the monthly book club (but that gets it own entry later this week). It's no wonder I will be ready for bed early.  So here is a quick visual Bite-Cap…
The 5.4-mile local urban hike, and of course the Cholate chip cookie pie
But as I had so much more to share, Bite-Cap2 was required (and yes there will be a Bite-Cap3)
Bite-Cap2 starts with the fun night we had at the Academy of Sciences, Halloween themed Nightlife event …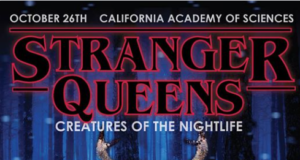 A few weeks ago we saw the posting NightLife as a Thursday night activity; being a big Peaches Christ fan, it was an easy sell to check it out. But after reading up on the event, we decided to check out how the creatures come out at NightLife with Bay Area Science Festival and Peaches Christ Productions. Now they really did a great job at transforming the place into a perfect freakshow then topped it off with it's supernatural tribute to '80s horror movies and creatures even stranger than life. It included a tour of a "haunted museum exhibit" full of scientific curiosities and monsters then wrapping up with the centerpiece of the night—a STRANGER QUEENS drag show and costume contest hosted by local drag legend Peaches Christ.  Overall it was the perfect marriage or crowd, space, and planning.  It for sure has me inspired to check out more of the Thursday night events in the future at Academy of Sciences.
The has lots of fun stuff to see in and do on any day of the week, but the off a Thursday program series called "NightLife, billed as a new adventure unfolding every Thursday night from 6–10 pm" which holds my attention; great for date nights or peoples night out.
Not to be outdone – the exhibits themselves were pretty marvelous! My personal favorites were the jellyfish,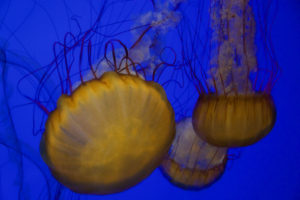 as part of the Steinhart Aquarium and a visit to the Swamp to meet Claude the albino alligator was pretty cool. I grabbed a few shots without a flash, topside shots but later found out that below the surface they prefer you not take pictures. Luckily the Academy supplies you with them online include a cool video of feeding time with Claude! Note: Claude isn't white- rather he lacks any pigments at all!
A quick video of those Jellyfish in action
I didn't take a lot of shots that night. OK, ok,  I took some. Check them out in the carousel below:
The California Academy of Sciences is a renowned scientific and educational institution dedicated to exploring, explaining, and sustaining life on Earth. Based in San Francisco's Golden Gate Park, it is home to a world-class aquarium, planetarium, and natural history museum—all under one living roof.
GOLDEN GATE PARK
55 MUSIC CONCOURSE DRIVE
Note: Save 42% on admission to the Academy and three other must-sees San Francisco attractions with CityPASS—plus 3-days unlimited Cable Car rides & Muni bus Passport.
SaveSave
SaveSave
SaveSave
SaveSave
SaveSave