1.17.14
We decided on a quick visit to Guerneville, Ca this weekend and made a call up to the former Russian River Resort, now rebranded and open as the R3 to see what kind of openings they had. The website it pretty clear and easy to navigate which is a good thing – as when calling to get into – you pretty much are directed back to it to check which rooms are available and to make a reservation. The place it pretty much in keeping with its past – but the rooms are clean and the beds soft. (More on staying at the R3 here)
But I digress. Along the way up to the river after an easy start to our day,, on recommendations from our pal Joe G. (owner of my personal local Barbershop of choice;  Joes Barbershop here in San Francisco), Paul suggested we stop off at Mom's Apple Pie shop in Sebastapol for "lunch".
Now – not being someone who is a "gotta have pie" kind of guy – I wasn't expecting much. On walking in – I was thinking sandwiches first, then maybe a slice.
Well, boy was my attention diverted with being greeted by a showcase full of freshly baked pies many of them looking every good as they smelt.  The folks working were lovely to chat with and "Mom" even poked her head out briefly to say hello.
Being a fan of cherry – I opted for the cherry pie and Paul debated a moment or two longer and ended up with the blueberry, then just to be sure – we order a mini apple pie to take with us for later.  Gotta' love a place that serves the pie simple and unadorned, warm and waiting before the sandwiches arrive. So you know the order of the day was going to be sample first then the protein.
Three things stood out for me; 1) The fruit tasted like fruit! Just the right balance of sweet and tart. I kind of think after tasting his, that the blueberry might have edged out the cherry some on flavor,  2) The crust was flaky and rich, just thick enough with out feeling like it was overwhelming the dish,  an last – it was warm and size right served in recycled tin pie plates.
While not a fancy place – they serve it up right. We also noticed that they now offer gluten free pies. Well worth a trip if you are in the area!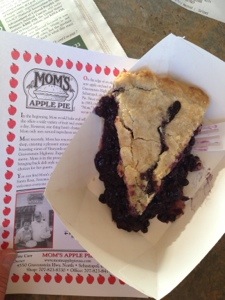 Mom's Apple Pie is located; 4550 Gravenstein Hwy. North • Sebastopol, CA 95472 • 707-823-8330, http://www.momsapplepieusa.com